Among the signs you're chosen the wrong low-code/no-code platform are if users are dissatisfied with the apps built using it, you're being forced into complex workflows, and you've built insecure system.
Low-code and no-code software offerings with high grades may not work well for every business. In fact, I recently wrote about data showing that over $900 billion has been wasted on digital transformation projects.
I've compiled a list of symptoms of a failing low-code/no-code platform, based on points from the InfoWorld article "8 signs your low-code platform is overpromising and underdelivering," and my experience working with enterprise customers.
How can you tell early whether your low-code or no-code platform is a winner?
1) The apps built with your platform don't accomplish what users need.
This forces organizations to lower their expectations for what the apps will accomplish. Tam Ayers, field CTO at Digibee, told InfoWorld, "A key indicator is when an organization begins to adjust requirements or lowers their expectations of desired business outcomes due to the limitations of their low-code platforms. Any low-code platform should accelerate value delivery to the business."
Never Hit Development Limits:
Alpha Anywhere is the most powerful, flexible low-code app development platform available.
The software's rich API, built-in offline and security features that allow for customization, and rich mobile features that can integrate with existing data sources ensure you'll never run out of power.
2) The platform is simply incapable of meeting your business requirements.
Enterprises are very different. They utilize different databases, software and SaaS solutions. They have different security policies and roles. They provide mobile devices to their employees, or they allow BYOB. As a result, your apps must be flexible enough to take these differences into account. Otherwise, you could find your apps are only half-complete at the end.
According to InfoWorld, Guljeet Nagpaul, chief product officer at ACCELQ, offers some details about how you can tell if your platform can't do that. He says, "One sign that your low-code platform is not working concerns customizations. If you find that your platform needs constant customizations, that suggests that the code is being written without the discipline of architecture and sound design."
Let's face it: the future of app development is citizen development. Gartner even predicts that citizen developers will outnumber professional developers by 4-to-1. Companies must invest in technologies that democratize app development. If your low-code platform requires coders to develop the apps; you're likely putting your organization at a serious disadvantage.
4) You have a low-code/no-code platform with complicated workflows that require too many systems to talk to one another.
Keep it simple! Kevin Marcus, CTO and cofounder at Versium tells InfoWorld that if you discover that IT would have been better off using code to build a simpler solution than using low-code/no-code, you're probably using the wrong tools.
5) The platform you're using requires multiple jerry-rigged integrations and raises security risks.
In the InfoWorld article, Alon Jackson, CEO and co-founder of Astrix Security warns: "integrations requiring a high level of access to a large set of critical enterprise systems, undermining traditional security review processes and exposing companies to potential data leakage."
6) You can't test the apps you're building with the platform.
User testing is a critical part of modern app development. If they can't, you're asking for trouble. Plus you're tying up valuable development time with an important but routine part of app development.

7) The apps can't work offline.
Offline capabilities used to be a nice-to-half feature, but in today's fast-paced business world, being dead in the water can mean a lost deal, inventory shortage, or unhappy customer. Make sure your platform can work with or without an internet connection.
8) You need to pay for basic capabilities and training.
Once you invest in a low-code platform, you don't want surprises. You should be able to build task-based apps with common features without having to pay for additional modules or big-ticket training packages. If you can't build apps without making more serious investments, this may be a recurring problem.
9) The software lacks deployment options.
For some companies, cloud deployment may work just fine. However, for more security-conscious industries, on-premise may be required. Whichever you need, if you have to jump through too many hoops when you need to deploy or scale your apps, you will run into trouble and high costs.
A Flexible Platform Without Limits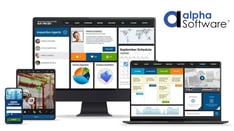 Alpha Software has the ideal low-code/no-code platforms for citizen developers as well as professional coders. The company's low-code and no-code software products enables experienced developers to be more productive and allow people who have never coded to build apps. The software is highly flexible, allowing users to work at their skill level and meet a wide range of app requirements -- from creating basic apps through to developing highly complex and sophisticated systems. With Alpha Software, users never hit limits or run out of power.

Alpha TransForm no-code software helps business users without programming experience to craft task-based apps in minutes. The apps use the latest mobile features (camera, GPS, etc.) for fast, accurate data collection, and the apps can work with or without a WiFi or cell connection. Developers can even tie the apps into business process management systems. Get the no-code app builder.

Alpha Anywhere low code app development software has the unique ability to rapidly create applications and mobile forms with highly advanced features. These web and mobile apps offer outstanding user experiences and can easily access and integrate with any database or web service, and can exploit built-in role-based security or robust offline functionality. Developers can build mobile apps, web apps, or complete ERP systems with the software. Build low-code apps for free.