What are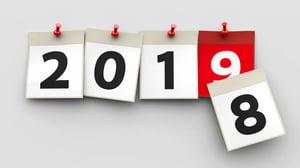 next year? As always, when late December rolls around, the Internet is rife with predictions. I've looked at dozens of them and found two excellent articles that seem to nail what you need to know for next year.
The first article, by Erica Mixon on SearchMobileComputing, "Watch out for these mobile technology trends in 2019," cites only three trends, but each seems to be right on target. The first trend seems obvious, but the consequences aren't: "Smartphone get smarter." That happens every year, of course, but in the coming year it's especially true, because of big advances in artificial intelligence and machine learning. Mobile chatbots, virtual assistants and operating systems increasingly use those technologies, and chips from Qualcomm and Huawei have AI capabilities built in.
Mixon says that in 2019, "These advancements will have a profound effect on organizations," including for security. And she expects AI to be built directly into enterprise mobility management (EMM) suites.
She also expects EMM to morph into unified endpoint management (UEM), which manages not just mobile devices but also desktops, wearables and IoT devices. That will allow enterprises not just to more easily manage all their connected hardware, but to speed up digital transformation by taking advantage of all of their digital assets and integrate them better into the enterprise's business.
Finally, in 2019, she says, mobile developers will turn to tools that let developers write a single code base that can be used to build both iOS and Android apps. And developers will increasingly build progressive web apps (PWAs), which blend native apps and web apps. She cites Forrester Research's vice president and principal Michael Facemire as saying PWAs will become the new standard for mobile app development.
---

Related Article:
What Will Be on CIOs Minds in 2019
A look at the top-read SearchCIO blogs shows what's on CIO Minds in 2019.
---
David Carty weighs in with his own predictions not just for mobile app development, but all development in his blog post on SearchSoftwareQuality, "The 2018 app-dev trends and news that will shape 2019." There's not space here to go into every one of his predictions, but one of his most important ones for mobile is "
low code is on the rise."
He notes, "With enterprise developers in high demand and short supply, low-code platforms are one of several app-dev trends that aim to keep the wheels of software delivery in motion, even if a developer isn't present. Low-code platforms, which Gartner estimated to grow by 55% in the next two years, enable less-technical workers to code mobile apps and functionality."
---

Related Article:
How AI Will Revolutionize Mobile App Development in 2019
The Mobile AI market will leap to $17.83 billion in 2023, and user expectations of how AI will affect business apps is about to change dramatically.
---
The Best Mobile App Development Platform for 2019

No matter what happens in 2019, you need the best mobile development platform to meet the new year's challenges. Alpha TransForm (for non-developers) and Alpha Anywhere (for developers) can work independently or together as as a single low-code app development platform, and are ideally suited for building any kind mobile apps. Alpha TransForm helps business users craft online or offline mobile apps in minutes that utilize the latest mobile features (camera, GPS, etc.) for fast, accurate data capture. Alpha Anywhere has the unique ability to rapidly create mobile-optimized forms and field apps that can easily access and integrate with any database or web service and can exploit built-in role-based security or robust offline functionality. Learn more about Alpha TransForm and try it free for 30 days