When we work with customers or show prospects Alpha TransForm there's one phrase we constantly hear: "I didn't know it could do that!"
The top minds at Alpha have built one comprehensive guide that walks through all the basic features of Alpha TransForm and more advanced capabilities for complex business app scenarios. Download this guide and you'll have all the power and secrets of Alpha TransForm at your fingertips.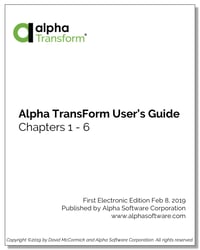 A Detailed Guide to Ensure You Get More Out of Alpha TransForm

Alpha TransForm is simple to use with a lot of powerful features under the hood. Our comprehensive User's Guide provides a full overview of most of the out of the box features that are included in the product. You'll understand what the product is designed to do, who it's built for, how to craft apps in minutes, and how power users can add more complex capabilities (data lookups, calculations, etc.).
| | |
| --- | --- |
| Chapter 1 | What is Alpha TransForm and who is it built for? |
| Chapters 2 & 3 | Setting up an Alpha TransForm account and building simple apps. |
| Chapter 4 | How to use Alpha TransForm apps on a mobile phone or tablet. |
| Chapter 5 | Building more sophisticated apps. |
| Chapter 6 | How to manage the data you collect. |
---
Note - Chapter 7 dedicated to the Alpha TransForm Language TPL has been added
Click here to access the Alpha TransForm User's Guide.
Haven't tried Alpha TransForm yet? Download the guide and get your free trial of Alpha TransForm.