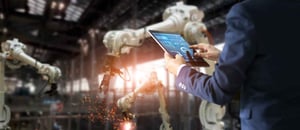 The future of manufacturing is Industry 4.0, digitally transforming the factory floor and every other aspect of the manufacturing industry. It looks as if 2020 will be a big year for digital transformation, especially since an estimated 85 percent of companies are expected to have put Industry 4.0 technologies into effect in the next five years.
What technologies will help transform the manufacturing industry in 2020? The website SupplyChainBrain offers predictions in its article, "Three Digital Manufacturing Trends for 2020."
The article notes, "Manufacturers in the past have been slow to adopt new technologies, but 2020 is likely to be a year of widespread digital adoption. The sparks have caught, and with outliers challenging the status quo, the industry is being pushed forward." It points to a warning by the McKinsey report, "Future-Proofing a Digital Manufacturing Transformation" that "With technology changing rapidly, manufacturers must future-proof their Industry 4.0 digital transformation plans or risk falling behind their competitors."
The article predicts that on-demand manufacturing will be one of the industry's most important digital trends of the year. On-demand manufacturing will be made possible by the cloud and by an emerging ecosystem of new technologies and companies, it says. With that ecosystem in place, it goes on to say, "All engineers have to do to get parts made is upload their computer-assisted designs (CADs), specifying material, surface finish, threaded holes, tolerances and lead time to the cloud. The platform will then confirm the design, and a member of the distributed network with manufacturing capabilities for the specific part will take on the project."
More partnerships and joint ventures will also be an important digital trend this year, the article says. Supply chains will become standardized and use common technologies. The article points to a Deloitte's 2020 Manufacturing Industry Outlook, which found, ""As manufacturers think about building agility into their supply chains, there is increasing realization that these efforts cannot occur in isolation. The need to cultivate a strong ecosystem is a trend that has emerged, and our research shows that it is an increasingly effective strategy for manufacturers, especially as it relates to digital momentum."
Finally, the article says, 3-D printing will come into its own this year. It points to a PwC white paper that found 3D printing "is evolving as a practicable alternative for both product development and conventional manufacturing." The article notes, "Over the past few years, the arrival of new materials has driven the industry forward, and applications are exploding. Originally, only a small selection of plastics were available to use in printing projects. Today, the addition of materials such as concrete, metal and nanoparticle ink have expanded the potential for innovation exponentially."
The Best Platform for Building Manufacturing Apps for Industry 4.0
To reach Industry 4.0, manufacturers need the right software solutions. Alpha Software helps manufacturers digitally transform their businesses. The company develops solutions that utilize the latest mobile device features (camera, GPS, etc.) for fast, accurate data collection. Once captured, data can immediately be shared or analyzed using a powerful built-in analytics engine. The solution can then tie into your corporate systems to power daily workflows.
Book a meeting with Us. We'll build a solution to meet your challenge or customize one of our pre-built solutions for your needs, such as our Gemba Walk App or our Non-Conformance Report Template.