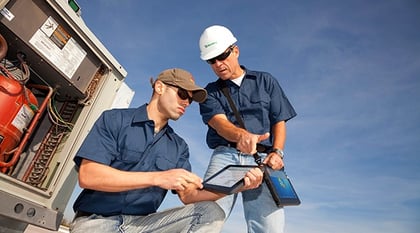 Some of the most useful and effective mobile apps you can build are for field-service workers, people who work on the go outside of traditional offices. Field-service employees work for utilities, engineering companies, in healthcare, property maintenance, and beyond. When they're out in the field they're often out of touch with the office, and use paper to track their work, fill out forms, and more. Here are some tips for developing field service apps.

With mobile apps, they can always stay in touch. And with mobile-optimized forms, they can do their work on tablets or smartphones, saving a tremendous amount of time, and improving their efficiency and workflow.

But they can only do that if the mobile apps they use are well-designed and useful. Sean Johnson, Principal of Field Data Integrators, offers some great advice on how to build better field service mobile apps in his blog post, How to Avoid the Top 3 'Gotchas' of Mobile App Development.

His first gotcha: "Everyone likes your mobile app, except the workers – and they don't use it." Too often, he writes, field service workers aren't asked about what they need in an app, or involved in app design or test pilot programs. That leads to problems like one in which a pipeline construction company abandoned a mobile app because field workers couldn't read its screens in bright sunshine unless the tablet was shielded from the sun by unassembled pipe sections. His advice: "To avoid this gotcha, include mobile workers in your initial tests or pilot that are interested in the project's success."

Here's gotcha number two: "Getting locked into a proprietary solution that stakeholders – such as IT – don't like." Increasingly, apps can be written outside the purview of IT. But Johnson says IT should always be consulted, because the app could be incompatible with devices IT will be purchasing. In addition, "IT can also help surface proprietary issues and data architecture approaches that can make it difficult to extract or integrate data into key internal systems and processes in the future." So, he says, make IT part of the process.

His final gotcha: "You've painted yourself into a corner by not preparing for change." That means you shouldn't lock yourself into proprietary solutions. And you should also choose a development tool that lets operational groups make changes to the apps themselves.

We agree with Johnson. And Alpha Anywhere is a great tool for creating mobile-optimized forms for field-service workers that can do much more than just replicate paper-based forms. As Alpha Software CTO Dan Bricklin explains: "Taking an image of a paper form and putting it on a tablet screen is not the answer." Instead, what's needed are new types of mobile-optimized forms: "These are applications that run on the tablet that can take advantage of a wide range of input types, that can have input means that are tailored to the needs of the particular data type and data values being entered, that can have layouts that are flexible, and that are customizable to the needs of the particular task."

To learn how Alpha Anywhere can help you build sophisticated mobile-optimized forms, click here.

For more information about Bricklin's recommendations on how to build the best tablet-based forms, click here.