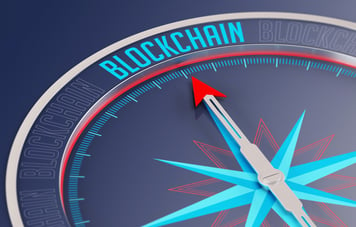 The bitcoin virtual currency continues to make headlines, with new bitcoin millionaires seemingly minted every day as Bitcoin's price has ascended into the stratosphere. Some believe Bitcoin is one of the biggest speculative bubbles the world has seen, and it's ready to pop, while others expect its value to rise to $60,000 for a single coin.
Bitcoin may or may not be a bubble. But the underlying encryption technology that makes it possible, Blockchain, is here to stay, with the backing of countless major financial institutions, healthcare organizations, real estate consortiums and more. Essentially, any industry that needs to securely track transaction will likely sooner or later use Blockchain.
Blockchain is a distributed digital ledger which records transactions in a decentralized database located in multiple places. Each block in any chain can contain transactions, records or programs. Blocks have a timestamp and links to the previous block in the chain. That makes sure the blocks and data cannot be changed or tampered with retroactively. And that makes them rock-solid safe.
What does this have to do with mobile apps? Plenty. Blockchain will be built into countless mobile apps, from retail to financial, supply chain and more. In fact, it's already happening. IBM, for example, is building a network using blockchain that verifies people's identities when they use services such as opening new bank accounts or getting driver's licenses. The network is expected to launch early in 2018 in Canada. When it does, people there will be able to use the network and have blockchain verify their identity using a mobile app.
IBM isn't alone. The company landmapp is developing a service and mobile app that uses blockchain to document land titles and land rights. It's targeted at the developing world, particularly Africa, as a way to dramatically reduce costs for titles. And ShelterZoom has built a service and mobile app based on blockchain aimed at streamlining the way real estate offers are made.
Perhaps the biggest uses of blockchain in mobile apps will be for making mobile payments. Forbes notes that "Only 1.2 billion people have access to a bank account with payment capabilities, while there are approximately 5 billion unique mobile phone subscribers." A partnership between the blockchain mobile payment company TelCoin and telecom companies will allow people who have mobile phones but not bank accounts to make secure mobile payments using mobile apps. TelCoin co-found and CEO Claude Eguienta said the app will "provide financial services to billions of people."
There's a lot more as well. Some people even believe that a blockchain-based app store could eventually replace Google Play and the App Store as the primary way in which people find mobile apps and pay for them.
At Alpha Software, we're keeping our eyes on all this and looking at ways in which blockchain can be used with mobile apps. Keep checking back here for news, including an interesting experiment we may have for you.
Further reading: How to create a mobile app