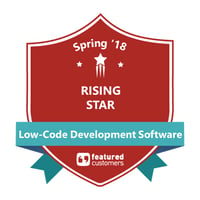 Alpha Software was named a "Rising Star" in Low-Code Development Software in the Spring 2018 Customer Success Report. FeaturedCustomers.com, which published the report, helps technology buyers make informed purchasing decisions by providing customer testimonials, success stories, case studies, and customer videos.
According to FeaturedCustomers: "Low-Code Development platforms allow the creation of application software by limiting expense and reducing the amount of manual coding required as well as enable a wider-range of people to contribute to the application's development. Both developers and non-developers can use low-code software to customize workflows and enhance rapid app development. These platforms can streamline app updates and regular maintenance in today's fast-paced business environment."
Many low-code development software companies were considered for the report, but only 12 met the criteria for inclusion. Alpha Software received an overall score of 85, earning a "Rising Star" award. Customers that use the low code development software to build apps give high marks to the Alpha Software low code app development platform for its speed of development, flexibility, and ease of building mobile apps.
Scores are determined by the number of customer reviews, social media presence, and vendor web traffic and search trends. The full report, including a detailed product scorecard, is available to download.
Alpha Anywhere receives near-perfect scores from customers on Gartner Peer Insights and received a Technology of the Year Award from InfoWorld. Try Alpha Anywhere for free or read more recent articles on the rise of low-code app development.
Further reading: