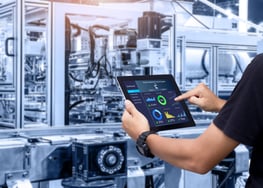 The holy grail for manufacturers is what's called Industry 4.0, which uses automation, IoT, artificial intelligence (AI), machine learning, mobile, data analytics, and other technologies to identify opportunities to improve productivity, cut costs, and increase quality. But manufacturers are having a hard time getting there because -- amid the demands of day-to-day work -- they traditionally have been slow to adopt the latest tools, like manufacturing software systems.
One of the best ways to get to Industry 4.0 is to use a technique called Continuous Improvement, in which manufacturers examine their production processes and workflows, and use multiple methods to make small incremental improvements. The idea is to streamline operations, improve productivity, eliminate waste, and ultimately make better products at less cost --- and do it faster.
That's easier said than done, of course. So how to do it? The PWC article, "What would Continuous Improvement look like in the Industry 4.0 world?" offers a great look. It says that the best way is to use a technique called Lean Six Sigma, which combines the Lean production system pioneered by Toyota starting in the 1950s, with the Six Sigma techniques developed by Motorola in the 1980s and put into full effect by General Electric in the 1990s.
The article points out that combining the latest technologies, like manufacturing software systems, with Lean Six Sigma is the best way to get to Continuous Improvement. It notes: "Industry 4.0 is inspired by the latest and most useful tools that technology can offer today. However, we believe that there are great synergies between Lean Six Sigma and Industry 4.0 and, ultimately, both fall under the umbrella of Continuous Improvement."
Making that harder for manufacturers is that developers are in high demand and short supply. However, there's a software for manufacturing business tool that can make it far easier for manufacturers to get to Industry 4.0 and to also use Lean Six Sigma to get to Continuous Improvement: low-code/no-code platforms. How does it help? A great place to find out is the article, "Fast Track to Industry 4.0: Low-Code Development in Manufacturing."
Low-Code Software in Manufacturing for Continuous Improvement
Why is low-code/no-code so suited for Industry 4.0 and Continuous Improvement? The article notes, "Smart manufacturing involves the use of a network of equipment, machinery, and processes." It adds: "Integrating smart technologies like IoT and other Industry 4.0 initiatives typically requires the use of specialized applications and platforms. Due to the costs of developing new applications, smaller manufacturers are often the last to benefit from custom purpose-built software solutions. LCDPs [low-code/no-code platforms] provide an alternative solution."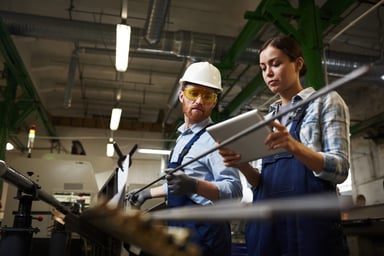 The article highlights the benefits of adding this software in manufacturing to the ongoing effort to improve process management at manufacturing companies:
Shorter development life cycles
Faster implementation of new processes
More efficient workflows
Less need for specialized IT
Reduces wasted time
It notes that low-code/no-code handles writing code, "leaving the developers and engineers to focus on the required business logic of the software. After the user develops a new workflow, it can immediately be tested in real-life and improved based on user feedback."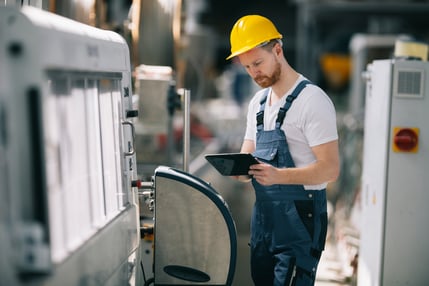 The article goes on to say: "Shorter development life cycles also lead to increased business agility. Businesses can adopt new technologies and processes with less effort, allowing them to quickly respond to new opportunities, such as changes in demand for products or the rapid development of a new product." In other words, Continuous Improvement achieved through manufacturing software systems.
Especially valuable is low-code/no-code software's compatibility with both legacy systems and new technologies such as the cloud, IoT, machine learning, additive manufacturing and blockchain. The article explains, "Businesses can use low-code platforms to bring their legacy systems up to speed with the rest of the industry."
The article goes on to say, "Industry 4.0 technologies, including AI and machine learning, depend on access to data. Connecting legacy systems to data networks allows for the complete digitization of a manufacturing facility. Every process can be monitored and assessed to find areas for improvement."
The conclusion? "The use of LCDPs helps lower the barrier to entry for manufacturers that want to use the latest technologies. The upfront and ongoing costs are lower. The deployment time and challenges of implementing new systems are also reduced. With easier integration and lower costs, manufacturers of all sizes can use LCDPs to begin the transformation to smart manufacturing processes." And that means manufacturing software systems that fast track to Continuous Improvement.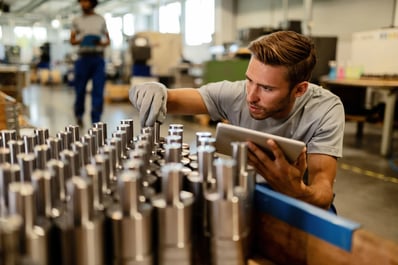 The Best Tool for Getting Manufacturers to Industry 4.0
Intelligent mobile apps are a great step towards Industry 4.0 for manufacturers. Alpha TransForm quality management software is ideal for busy manufacturers looking to implement a continual improvement process and foster an improvement culture. Alpha TransForm helps quality, inventory or production team members craft online or offline manufacturing apps in minutes, that utilize the latest mobile features (photos, GPS, time/date stamping, bar code scanning, voice recording, etc.) for fast, accurate data capture on the manufacturing floor or in the warehouse. Manufacturers can pay a low monthly subscription and easily craft all the apps they need - or mobilize their existing paper forms processes - and have them running in a secure cloud in days -- without a capital expense or fighting for IT resources. And Alpha customers benefit from free apps, like the Gemba walk template, 5S Audit template, and non-conformance report template.
Try this Quality Management Solution with free app templates.. Foster team collaboration and implement improvement techniques at your organizations.
Further reading:
Learn more about quality control software, quality assurance software and how to can improve your quality process.