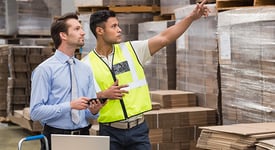 A digital Gemba Walk checklist can be used and customized for any organization. Gemba Walk observations are useful to just about any business in any industry and are becoming more widely used. They involve walking through workplaces and capturing observations on a checklist, which can help companies identify inefficiency, waste, and safety hazards.
What is a Gemba Walk?
To improve operations, leaders must understand the processes behind them, and the daily challenges, physical tasks, and technology the people responsible for those processes use.
When managers in "ivory towers" make decisions when they don't understand the details of each process, unreasonable requests may be made. At the same time, those doing the work are often too busy or close to the process to address potential problems. When managers take a step back and watch a process happen, improvement opportunities can be seen quite clearly.
Toyota's process improvement leaders first developed the concept of a "Gemba Walk." The word Gemba is a Japanese word meaning "the real place". It is now a common kaizen event -- or short-duration improvement projects -- across hundreds of companies.
The idea behind a walk is to put process leaders at the location where the work or process is being done. Leaders are expected to watch the process happen, interview people doing the job, take clear notes and make insights. Those insights can help guide future improvements or address challenges and safety issues.
Gemba walks can be used in virtually any industry for any process. For example, checkout lines and areas at grocery stores, warehouses, shipping facilities, call centers, and more. The important thing is to observe carefully, ask workers insightful questions and record observations accurately and comprehensively. Gemba walks can help improve standard work routines and make them safer or more efficient.
How do you use Gemba Walks?
A checklist should be used each time a process manager conducts a Gemba walk. This ensures that the process is focused, important items are not missed, and similar questions allow you to better compare answers and progress over time. The checklist should include questions that will help you understand the process better. Your questions will also change depending on the main objective -- or changing objectives -- during your walk.
What types of questions are asked during Gemba Walks?
Some questions typically included on Gemba Walks include:
Is there an established process for this specific work?
Do you have any problems with the current process?
Why is there a problem?
Can you identify the root of the problem?
Can you fix the problem?
Who do you voice concerns or problems with the process to?
Is there an aspect of your process/job that takes up too much time or wastes time?
These questions will defer when exploring different areas such as: problem-solving, innovation, resources, tools and etc. So before you go Gemba, prepare your checklist carefully based on the area you want to investigate.
How can I collect my Gemba Walk notes, interviews, and pictures?
In the past, insights gathered during Gemba walks were captured on paper, making the data hard to share and measure in a timely, transparent way. Using mobile forms, lean manufacturing managers can now collect Gemba Walk checklist data on any mobile device and share it within the company. Paperless Gemba walk checklists can streamline improvements, capture more accurate data, including more detailed images and explanations in ways paper checklists never could.
By taking good notes during the Gemba walk, managers can accurately record detailed information, pictures, measurements and interview comments. Best practices now involve recording all aspects of the walk digitally. More and more companies are moving paper processes to a mobile app, such as this Gemba Walk Checklist app.
What do I do after a Gemba Walk?
. With the right data collection tool, you can share your data and notes, or even add your insights. You can brief teams on what you uncovered. The best lean practices capture and compare each week's Gemba Walk results -- showing continuous improvement over time. Transparency is key.
What are the benefits of a Gemba Walk?
Conducting regular Gemba walks, resolving issues, and measuring impact can result in:
Faster identification of unsafe work environments or needed repairs
Throughput improvements and less time spent by those involved "waiting around" for things to happen
Reduced waste from operations
Stronger relationships and common understanding between workers and management
Continuous improvement of the process and overall operations of the business.
Free Gemba Walk Checklist App - Available Now
What should you include on your Gemba Walk checklist? We've assembled the list and put it into a mobile app you can begin using immediately. The Gemba Walk Template from Alpha Software helps companies collect and share critical insights found on routine Gemba walks.
This app allows you to easily share insights with your colleagues through an Excel file or tie it into your systems of record. The app can be reused to accommodate your company's Gemba walks schedule. Business leaders can take pictures, record notes, time and date stamp their walkthroughs, interview team members, and more. Alpha Software offers a range of quality manufacturing solutions. Learn more about quality control and quality assurance apps.
Book a meeting with us and get free access to the Gemba Walk Solution.