Do you need to create mobile apps for your business based on new app ideas? This short video shows you how to build successful apps with the latest mobile features using a free, low-code development tool. Submit your apps to the Google app store or Apple app store with ease.
The Alpha Anywhere Community Edition software tool is free low-code app development software. It's faster, more affordable, and most sophisticated than other enterprise app builders on the market. And you can build a single app or as many apps as you need, all for free.
---

Why Creating Apps with This Free App Builder is Different:
1) Use an App Maker Consistently Ranked the Best Software for Mobile App Development
Alpha Software low-code app development software consistently receives 5-star reviews from customers on unbiased product review sites and is regularly ranked a "best mobile app development software." Most recently, the software was recognized in the G2Crowd Spring Best Low-Code Development Software Platforms Report, based on 5-star reviews from Alpha Anywhere customers.

2) Build Cross-platform Apps

When you're building mobile apps with Alpha Anywhere, you'll craft cross-platform web and mobile applications that run on any mobile operating system.
This saves significant time, because you develop an app once, with a single code base, and the app then runs flawlessly on both iOS and Android devices. This means you don't have to develop an app for each operating platform, plus you only make updates to an app once and it updates on all platforms. You can build all types of apps with outstanding user experiences and custom app design.
3) Create Apps with Popular Smartphone and Tablet Features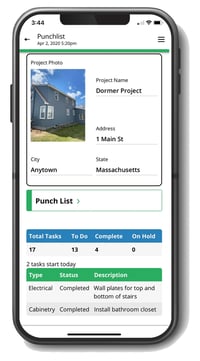 Users love their B2C mobile apps because of all the cool features and capabilities of modern smartphones and tablets. With the Alpha Anywhere app maker, you can build B2B apps with:
image and audio capture
digital ink (for photo markup or signatures)
bar code scanning
GPS mapping
time and date stamping
on-device calculations
SMS push notifications
rapid data collection (one handed data entry)
cool new features like AI, ML, or virtual reality
and more.
3) Integrate Your Apps with Popular Software and Essential Systems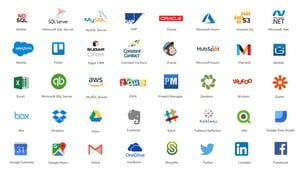 This app maker can integrate with existing corporate databases and popular enterprise software and SaaS solutions.
You can connect apps you make to popular software like SalesForce, Tableau Software, SAP, SQL, Oracle, and more. You can also leverage industry specific ERP systems like ProCore or Tyler Technologies. You can also leverage web services, such as Gmail, Google Calendar, mapping software, YouTube videos, and more.
5) Build Apps that Can Work Without a Connection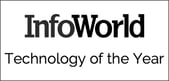 Mobile apps you build using the Alpha Anywhere app making software can work with or without a WIFI or cell connection. This built-in feature saves time and trouble, as adding offline capabilities to an app is considered one of the most difficult aspects of modern mobile app development. The software is so innovative, its offline apps features were recognized with the InfoWorld Technology of the Year Award.
6) Use an App Creator with Built-In Security
The Alpha Anywhere app maker has a built-in security framework, so apps include enterprise security without you having to know programming skills.
7) Get Free App Templates
If you don't like building an app from scratch, Alpha Anywhere software offers free app templates, so you don't always have to start from scratch when you make new apps. These are great starting points when you need to build apps for data collection, inspections, online ordering, and more.
8) Don't Pay a Thing Until You Deploy Your App
Alpha Software believes that developers should have the freedom they need to explore and prototype new app ideas without having to worry about R&D costs or gaining budget approval for a new app idea. Developers don't have time to wait for corporate budget approvals to start developing apps. Unfortunately, without a prototype, often budgets don't get approved. Entrepreneurs also want to build a prototype of their SaaS app without having to make an up-front investment.
We let anyone prototype or develop a working app for free. They can then test it without any additional investment. Once they're ready to deploy their app, they can deploy to Alpha Cloud for as little as $99/month.
9) Benefit from Extensive Training Tools
Alpha Software has mobile app development training packaged for how you like to learn:
10) Work 1:1 with a Mentor
Alpha Software is the only low-code software vendor with an individually-focused, 1:1 mentoring program. We'll assign an experienced developer to help you learn to how to build apps, understand how to use the app maker, troubleshoot any problems you have as you develop apps and assist you in publishing your apps.
11) Network with Your Peers
Alpha Software has an active user community of over 17,000 active developers using the product. You can ask questions, get tips, share ideas or even share code. This is a great way to learn more about the product, including its strengths, app templates and more.
Watch: How You Can Create Mobile Apps for Free Using The Alpha Anywhere Free App Maker:
Prefer not to write code?
Our Alpha TransForm no-code app builder might be right for you. The software allows people who cannot code build cross-platform business apps without writing a single line of code.
Like other drag and drop user interface products, business users can turn paper forms into a mobile data collection app in minutes, which take full advantage of all the capabilities of the smartphone, including photos, mapping, audio recording, bar code scanning, and more. The software builds offline apps automatically. In addition, Power users & developers can add advanced app functionality with Alpha TransForm's built-in programming language.