Trying to find a laptop for remote work, video meetings, or for your kids going back to school? Good luck. There's a big laptop shortage that's making it difficult, if not impossible, to find the laptops remote workers and students need.
And as I'll explain later in this post, that makes it all the more important to write mobile applications for multiple mobile operating systems and mobile devices.
First, though, let's take a look at how bad the laptop shortage is.
A Serious Laptop Shortage
The Associated Press reports "The world's three biggest computer companies, Lenovo, HP and Dell, have told school districts they have a shortage of nearly 5 million laptops."
And the numbers are even worse than that, the report says. It says that Lenovo told the California Department of Education that "the company has a backlog of more than 3 million Chromebooks."
It's not just school systems that can't buy laptops. Regular consumers can't, either.
Consumer Reports warns that these days, after you add a laptop to your online shopping cart ready to pay with a credit card, you will discover "that there are four, two, then none left in stock."
Things are so bad, Consumer Reports calls it "the Great Laptop Shortage of 2020."
Ryan Reith of market research firm IDC warns, "What we'll see, at least for the next two to three months, is a lot of product simply not available."
There are many reasons for the shortage. Students need laptops for remote learning. Employees need them for remote work. People need them for videoconferencing and staying in touch with family and friends.
In addition, according to the article "A Massive Laptop Shortage Has Hit the United States," "Slower port inspections mean longer stock cycles. The United States Postal Service has suffered unprecedented slowdowns."
Beyond that, supply chain woes in China make it difficult for companies to meet demand.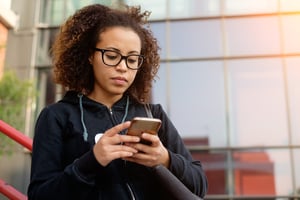 Why Mobile Apps Are the Answer to the Laptop Shortage
Because of all that, mobile apps are more important than ever for your business. People won't be able to get to web apps via WiFi on their laptops. The user experience on web browsers on phones simply isn't as good as the user interface mobile apps.
That means if you want to reach consumers, mobile apps are the way to go. And if you want a more effective workforce and more efficient business, you need to double-down on mobile development to give them the apps they need.
Choosing the Best Cross Platform Development Tool for Mobile Apps
It can be expensive to build mobile apps though, especially if you want to write both iPhone apps and Android apps.
The answer is to use a cross platform development tool that lets you use a single codebase for your apps.
Alpha Software's platform allows you to quickly build and deploy mobile and web applications from a single codebase. These highly secure applications run like native applications on both personal computers and mobile devices.
Alpha Software's platform has built-in mobile app development tools. It allows developers with or without mobile development experience to rapidly create robust, cross platform mobile apps. The platform uses a single code base to significantly reduces the time it takes to build these apps versus competing methods.
With Alpha Anywhere, you will find a complete and affordable cross platform mobile development and deployment platform.
Once you build your app with Alpha Anywhere, Alpha Cloud enables one-click deployment for your apps. Easy and secure deployment keeps your business applications safe while speeding them to end-users' mobile devices.
Alpha Software offers a range of mentoring, training and professional services to help speed and scale cross-platform mobile app development.
Learn about the power of Alpha Software products for cross-platform mobile app development. Alpha Anywhere is consistently ranked with near-perfect scores by customers on third-party product review websites.