Several years ago when people thought about mobile apps, they wondered, "How are you going to take everything that fits on a normal desktop screen and squash it to fit onto a mobile device?" But at Alpha Software we've learned that's the wrong question. Mobile isn't about replacing existing desktop applications. It's about extending apps to a new category of worker — and building applications that are targeted to doing the very specific and important things they need to accomplish.

True mobile business applications get and display only information relevant to people's tasks, for example, the work someone has to do for the day and all its associated data, such as maps or customer contacts. The first screen of the app might be a simple assignment screen, and the second screen might have all the information needed to finish that assignment, and perhaps data capture so you can confirm you've completed the work.

You'll still use your desktop application and back-office systems for a lot of the heavy lifting and analysis. You shouldn't get rid of the pre-existing desktop application and try to fit it all on mobile. Only appropriate information is allocated to the mobile device. Mobile and desktop apps work together as part of the same team, in the same way that football players with different skills play different positions. You're not going to have your quarterback running back punts, or your kicker trying to play linebacker. And you're not going to have your mobile device performing sophisticated data analysis.

What Mobile Apps Must Do
All this means that mobile applications aren't just stripped-down versions of desktop applications. Apps written for mobile devices perform a highly specialized set of functions, which can't be replicated by desktop apps. They must:


Be location- and time-aware
Allow someone to use them with just one hand
Be optimized for data-entry
Be optimized for small screens
Take advantage of a device's hardware, including GPS, camera, and other onboard capabilities
Illustration 1. True Enterprise Mobile Apps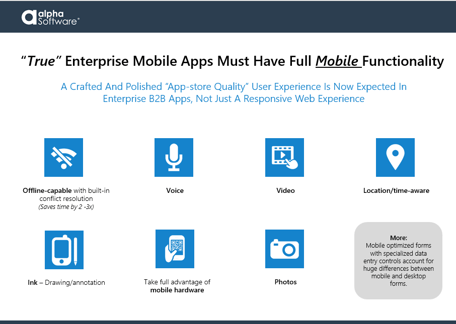 Mobile apps should work on all mobile platforms, without having to be develop separate mobile apps for iOS, Android, Windows or others. Write once, deploy everywhere is the mantra you must follow to ensure your apps work properly anytime, anywhere and that they are updated simultaneously for all devices.

Read more about , what constitutes a true mobile app.

Build mobile apps for free with the Alpha Anywhere Community Edition app maker. View our tutorial on how to build a mobile app for free.

Read my recent article in CIOReview about how mobile apps can transform business processes.