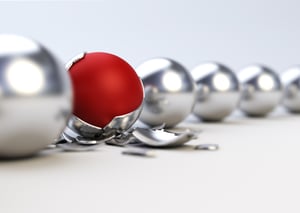 If you're in a midsize enterprise, you're facing the tsunami of digital transformation. The best way to prepare for it and ride the wave is to know exactly what's coming your way. So we've got advice for you from the Gartner report, "Enterprises: Applying the Most Relevant of Gartner's 2018 Strategic Technology Trends," which lists the five most important technologies that can help midsize enterprises in 2018 and beyond. Following are the five most important tech trends midsize enterprises need to know about.
Conversational Platforms
These are systems that use language as their primary interface rather than other types of input. The platforms really took off in 2017, and include smart speakers, chatbots, virtual personal assistants, and virtual employee assistants. assistants. The report says, "In 2018 we expect further maturation of the supporting platforms and an embrace of conversational interfaces across more packaged applications."
Immersive Experience
This trend "is a significant shift from the augmented and virtual reality trend on the 2017 list," the report says. The trend goes beyond head-mounted displays and other augmented reality and virtual reality tools. The report says, "immersive experiences highlight a shift from the visual interface to embrace a full multichannel experience, including sound, touch and other sensory channels."
Then report finds that both conversational platforms and immersive experiences are starting to gain traction in midsize enterprises. It says "15 percent of North American MSEs have implemented or are actively testing conversational interfaces," and 21 percent of European MSEs are testing it. As for immersive experience technology, 11 percent of North American MSEs and 17 percent of North European MSEs are testing it. The report notes "MSEs with frontline workers such as those in manufacturing and healthcare will see early benefits and should expect higher levels of adoption. For example, workers using AR can pull information regarding machinery or patients just by focusing a camera on them, without the need to perform a manual search or review multiple screens."
Event Driven Model
This refers to frameworks that offer new ways to automate business processes. Gartner explains, "The main differentiation from prior, well-understood business processes (e.g., smart loan or claims processing, event-based inventory management, logistics, workflow management) is the current potential to be more pervasive, innovative, interconnected and differentiating." Among other Gartner recommendations for MSEs about event driven models is that they should "Seek to combine several dimensions of data collected via sensors to improve the customer experience or increase internal productivity. Having data from multiple sensors can allow decision making and intervention in real time."
AI Foundation
This trend is an extension of the AI boom, and in Gartner's words, "reflect(s) the fact that AI-related technologies are increasingly used across virtually every technology-enabled software or hardware system." Gartner warns, however, that there's plenty of hype about AI, so MSEs need to carefully determine the best way to use it. The AI-related tech that will most help them are "expert systems, decision trees, linear regression and neural networks."
Intelligent Apps and Analytics
This is an extension of the intelligent app trend of 2017, and reflects "the increasing application of advanced machine learning techniques to analytics tools used to empower citizen data scientists. The trend for 2018 also emphasizes the use of AI-enhanced applications to augment rather than simply replace people."
What Other Technology Can Help Midsize Enterprises?
The other big trend not covered in the Gartner report is using mobile technologies to transform the enterprise while taking advantage of tools that merge the skills of citizen developers with IT. This is where Alpha Software and its new Alpha TransForm technology shines. It enables savvy business domain experts and IT departments to work together to quickly and effectively digitize business processes and deliver tangible business impact. It lets line-of-business experts build mobile apps using their insight regarding workflow needs and efficiencies, while simultaneously enabling IT to control data integration with systems of record, and data security compliance. You can try Alpha TransForm for free.
If you're looking for advice on how midsize and small enterprises can get the most out of mobile technology, check out my blog posts, "How To Choose The Right Mobile Development Tools For Midsize Enterprises," "How Small Businesses Build Mobile Apps Today - And How They Can Do It Better," and "The Rise Of Custom Mobile Apps For Small Business."