Technology has rapidly changed not just the way that companies do business and the kind of tools they use, but also the way that employees in different parts of companies work together. But what technology for the C-Suite hasn't changed to any great degree, says Deloitte Consulting LLC. And that must change, the consulting company says, if enterprises want to digitally transform themselves.
So reports Nicole Laskowski in her article in SearchCIO, "The future of work requires a new C-suite." Laskowski quotes Janet Foutty, chairman and CEO at Deloitte Consulting, as saying at the EmTech Next conference in June, 2018, "When we took a step back and thought about the evolution of the executive ranks in both government and corporate America, we think about it in three chapters. I believe we're entering the third chapter today, which is the symphonic C-suite."
In C-Suite 1.0, Foutty explains, its structure was about command-and-control, with top-down directives and direction issued by the CEO. The closer an executive was to the CEO, the more power and influence he or she had.
In C-Suite 2.0, she continues, the emphasis is on executives' expertise and depth of knowledge, with those hired as CIO, CFO, CMO and others in the C-Suite considered "the best and brightest in their domain." That led to a proliferation of C-suite titles, in which each person was master of his or her own domain. That, she says, is where most C-suites are today.
But she believes that is problematic for the world we live in, in which new technologies ranging from AI to robotics go well beyond transforming the way that people work. Instead, they change the very core of companies, the way in which they compete for customers and hire the best employees.
"This is bigger than technology," Laskowski quotes Erica Volini, U.S. human capital leader at Deloitte, as saying onstage at EmTech Next. "It has significant workforce impact that needs to be managed, and it can't be relegated to one title or one person."
In the new C-Suite model, 3.0, Laskowski sums up, "the leadership team has shared accountability across all domains and comes together as needed to tackle the kinds of challenges that businesses face today...Together, the corporate chiefs can establish a culture and an org structure needed to embrace emerging tech, manage risk, launch new business models or overhaul hiring and retention practices." That, in turn will digitally transform enterprises.
How is Alpha Software Helping to Usher in C-Suite 3.0?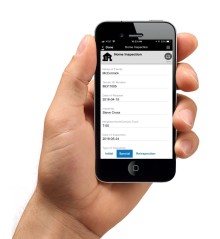 C-Suite 3.0 and digital transformation requires not just collaboration among members of the C-Suite, but of employees across many enterprise departments and divisions, notably IT and line-of-business staff. Alpha Software is working with customers to allow C-level executives and business unit leaders to engage more members of the workforce in digital transformation. How? With new technology that allows IT and business workers to collaborate easily on digitizing business processes on smartphones -- and they can do it in minutes.
Alpha Anywhere and its new Alpha TransForm technology are ideal for this new business world and the new C-Suite. It enables savvy business domain experts and IT departments to work together to quickly and effectively digitize business processes and deliver tangible business impact. It lets line-of-business experts build mobile apps using their insight regarding workflow needs and efficiencies, while simultaneously enabling IT to control data integration with systems of record, and data security compliance.
If you would like to explore how Alpha Software could help your business leaders successfully drive digital transformation and business innovation, speak to our Director of Digital Transformation Technologies:
mike.gongwer@alphasoftware.com
.
Further reading: