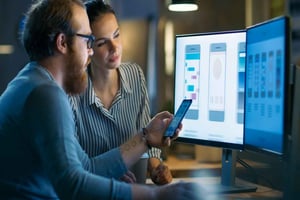 Looking for the quickest, surest and least-expensive way to digitally transform your enterprise? The secret weapon for digital transformation is empowering your business's "citizen developers": line-of-business staff and domain experts who have the hands-on expertise to get the job done. And the best way to empower them is to provide them with tools that can let them build their own apps without having to learn how to write code.
So concludes App Developer Magazine in its blog post, "Supporting citizen developers to speed digital transformation." The article notes that "Overtaxed IT departments aren't able to keep up with the rapidly changing needs of business." Enter the citizen developer. The blog post says, "They allow organizations to modernize by decreasing dependence on outdated, inflexible and expensive legacy solutions, such as cumbersome spreadsheets and emails. Instead, they're replacing traditional processes by creating custom applications with built-in workflow and collaboration capabilities without the expense and maintenance related to legacy software."
Smart enterprises are catching on to their importance. Research by the magazine found that "one-third of organizations are highly proactive in supporting their citizen developers with training and platforms." But, it warns, "Nearly all of the executives we surveyed acknowledge more needs to be done. Executives and their staffs have some programming skills, but more than one in four knows nothing about programming. Still, a majority have downloaded applications on their own, and close to half have worked directly on corporate websites or mobile apps."
How Can Enterprises Best Support Citizen Developers?
So what can enterprises do to support their citizen developers? Plenty, according to the blog, even though right now companies aren't doing a very good job of it. The post notes that 68 percent of enterprises "admit that they provide no training or support for citizen developers, or are not aware of their efforts."
The magazine recommends that enterprises provide training, such as for entry-level programming, to help citizen developers. It also says that mentoring, particularly one-on-one, is important, especially in teaching Agile programming practices. And it adds, "Bringing on consultants or services that can help non-IT employees with their programming efforts can be effective and worth it in the long run."
What's the Single Most Important Way to Support Citizen Developers?
The best way to support citizen developers, though, is to give them the hands-on tools so they can build apps themselves — notably no-code or low-code platforms. The blog post says, "Using platforms for building and deploying business applications with little or no code allow stakeholders to quickly share information, files and projects easily with their team."
That's where Alpha Anywhere comes in. Not only does it empower citizen developers, but it also helps them work in close collaboration with IT — and offers IT a rich set of tools as well. Alpha Anywhere – with new TransForm app maker technology – utilizes both no-code and low-code modes to enable business users to work in parallel with IT to create and deploy mobile forms with power features like offline capability, rich media and signature capture, and GPS location. Business users can design data capture business apps in a fraction of a time with the TransForm no-code capability, which:
lays out the whole app for the user
allows the user to easily adjust the layout to fit any business process or priorities
gives users the flexibility needed to ensure the mobile form looks good
gives users a real-time preview of what the data capture app will look like (with a WYSIWYG real-time preview).
For more details about how Alpha Anywhere can help both citizen developers and IT drive digital transformation, read my blog post, "How Enterprise Architects Can Drive Digital Transformation." And for an in-depth look at how the citizen developer movement is spearheading digital transformation, get the free white paper, "Citizen Developers: The Democratization of Mobile and Web App Development."
If you would like to explore how the Alpha TransForm No-Code App Builder with free app templates could help your organization empower citizen developers, contact sales@alphasoftware.com.
Further reading:
Read about the benefits of no-code app builders.
Learn how to encourage citizen developers within your organization.