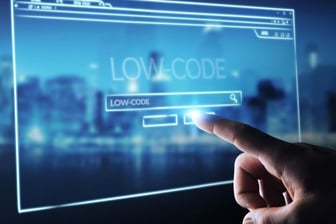 It's well-known by now that no-code software is one of the most important tools for spurring digital transformation. But there's a growing recognition that no-code development is more than just a tool for aiding transformation – the very existence of low-code tools represents the next digital transformation.
Growing Popularity of No-Code/Low-Code Tools
Iain Scholnick, CEO of Braidio, told ZDNet that no-code and low-code tools have "already been hailed as the second digital transformation and it's easy to see why. The pandemic disrupted almost every industry, hit healthcare especially hard and the industry had to adapt quickly, using no-code to develop applications for healthcare tech in weeks to quickly meet demand. From automating simple tasks to building entire applications or prototyping a new idea, no-code tools offer companies the fastest and cheapest way to scale their digital transformation across their entire business."
Helping Overstretched IT Departments
Linda Ding, senior director at Laserfiche, agrees. She told ZDNet that the combination of the pandemic and the lack of experienced developers mean that no-code/low-code represents the future of app development.
"Many organizations face challenges with scarce IT resources and a lack of funding," she said. "The pandemic brought about new business needs that required immediate solutions."
Building More Apps for Business
She added that the most useful applications that built outside of IT "are the ones that manage interactive processes with external customers. These are the innovations we saw over the past year, when accelerated needs led to faster business application deployment. These applications require huge quantities of data submission and collection, which need to be tied into workflow logic and real-time or daily reporting and aggregation of data.
"Over time, as the no-code, low-code approach becomes more pervasive, IT can be more strategic, focusing on cybersecurity, scalability, and infrastructure performance versus developing one-off or niche applications for various business users, which is time- and resource-intensive."
The Citizen Development Movement
Citizen developers are key to all that. Non-developers are much closer to the business problems that need to be solved than are IT staff. They know the workflows and business needs that must be addressed. They are driving much of digital transformation across all industries. (Further reading: How to Become a Citizen Developer.)
The article gives a real-world example of how no-code and low-code software can help companies grow and thrive without having to rely on IT. In a tweet former tech executive-turned-entrepreneurial-advocate Justin Welsh wrote, "I've done over $1 million in income in two years as an entrepreneur -- and I didn't write a single line of code."

Alpha Software offers the best no-code/low-code application platform for mobile app development. The software includes offline apps enterprise security and integrations with data sources and other applications.
The Alpha TransForm no-code app builder helps business users craft online or offline mobile apps in minutes. The apps can utilize the latest mobile features (camera, GPS, etc.) for fast, accurate data capture. Developers can even tie the apps into business process management systems. Learn more about Alpha TransForm no-code app builder.
Alpha Anywhere low code app development software has the unique ability to rapidly create applications and mobile forms that can easily access and integrate with any database or web service and can exploit built-in role-based security or robust offline functionality. Build low code apps for free with Alpha Anywhere Community Edition.