Our Commitment to Educating Tomorrow's Developers
The Alpha Anywhere Academic Program supports mobile application development education by providing educators and students with access to award-winning mobile app development and deployment software and resources. Through this program, tomorrow's developers and business analysts can advance their understanding of mobile apps, web apps, mobile-optimized forms, offline operation and how to solve the complex front-end and back-end development challenges required modern apps.
The Alpha Anywhere Academic Program provides educators and students with:
Free licenses for the industry's leading mobile and web app development and deployment platform: Alpha Anywhere

Access to Alpha Software's extensive online Documentation Library/Video Library/Tutorials/e-Learning Tools

Technical support via the Alpha Anywhere user community forum - with 17,000 active developers
Program Details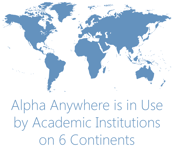 Alpha Anywhere licenses are granted to accredited, degree-granting institutions for undergraduate and graduate-level coursework. Project and research activities outside of the standard institutional calendar and syllabus are typically not supported through this program.

Professors and students are granted full access to our online resources to assist in learning how to use Alpha Anywhere, build educational apps or solve development issues.
---
FAQ
Q: How do I qualify for educational pricing?
A: In order to qualify as an academic customer, you must provide proof that you are currently enrolled or teach at an accredited academic institution and have a valid .edu email address.
Q: What's included in an Alpha Anywhere subscription? What does the subscription allow me to do?
A: The subscription includes one Alpha Anywhere developer license (to build apps) and one server license (to deploy your apps).
Q: What if I experience a technical challenge?
A: Members of our academic program are invited to post a technical question to our customer forum. Users typically see a response within 2 business days.
Q: I work in the IT department of an academic institution. Which programs are available?
A: Complimentary licenses are available for students, and we also offer discounted pricing to education institutions interested in using Alpha Anywhere. Please contact us for further details.