BURLINGTON, MA. December 2, 2014 – Alpha Software Corporation today announced it has integrated its award winning Alpha Anywhere with Apperian, Inc., the leading platform for securing and managing enterprise mobile apps, to enable fast and secure deployment of enterprise business applications.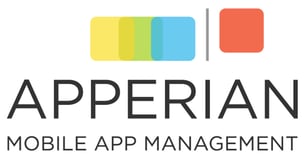 Enterprises today understand the value of mobile business apps to allow employees on the road or in the field to get work done. However, many are faced with the "mobile app gap" – or the challenge of quickly deploying, then managing these critical business apps. In fact, a recent IDC Research survey of U.S. and U.K. companies with more than 1,000 employees found that 61 percent of organizations surveyed have deployed only three or fewer mobile applications.1
"The promise of mobile apps in the enterprise is great, with the ability to improve productivity and enable a truly mobile workforce. But many organizations struggle to make this a reality," said Richard Rabins, Alpha Software Corporation CEO. "By partnering with Apperian, we're eliminating the app gap hurdle by allowing developers to push critical business apps created rapidly in Alpha Anywhere out to enterprise users more quickly and easily than ever before."
The seamless integration of the Alpha Anywhere complete prototype-to-production environment with Apperian's end-to-end, cloud-based solution for securing, distributing and managing mobile apps enables organizations to more quickly and easily provide constituents with feature-rich, secure and branded business apps. The integration provides a variety of benefits, including:
Provides one-click publishing

of a single app or of multiple apps to Apperian's fully-customizable Enterprise App Store, which drives user adoption through its consumer-like UX and simplifies the process of pushing app updates to users.
Delivers fine-tuned security and policy controls for each

through app wrapping and without requiring additional code modifications or SDKs.
Manages the full app lifecycle

from developer to device, including app inspection, wrapping, integration with authentication identity providers and app signing.
"IT and line of business leaders are creating critical apps, but getting them deployed and adopted in today's BYOD environment is a challenge," said Cimarron Buser, SVP of Business Development at Apperian. "Alpha Software's integration with Apperian's platform provides a solution that streamlines the entire application lifecycle, from development, to app security, distribution and updates. We're helping deliver the productivity benefits of mobility while eliminating complications normally encountered when managing enterprise apps, especially in environments of unmanaged devices."
To learn more, visit: https://www.alphasoftware.com/alpha-partner-apperian
About Apperian
Apperian is the leading enterprise-class mobile application management and app store platform for the secure delivery of critical apps to 100% of users across an organization. Apperian provides fine-grained security and dynamic policy controls at the individual app level for deployments where mobile device management approaches are not possible or desired, such as BYOD, contract workers and other unmanaged devices.
Apperian's easy to use interface offers a private, branded consumer-like enterprise app store that greatly increases mobile app adoption and a comprehensive app management back-end for administrators to easily protect and manage their business apps and data. The company has helped IT and line of business professionals secure and deliver more than 1.2 million enterprise apps to organizations such as Maxim Integrated Products, NVIDIA, Nationwide, New Balance, and the U.S. Department of Homeland Security.
Apperian is headquartered in Boston with teams throughout the U.S., Europe, and Asia. For more information please follow the company on Twitter at @Apperian and LinkedIn at Apperian, Inc.