Earlier this month, Gartner released the Market Guide for Rapid Mobile App Development Tools to help enterprise buyers understand the key considerations when evaluating RMAD products and the differences between some of the leaders in this market. This is an important new guide for software development buyers evaluating business app development tools:

"Mobile app development is not just for coders and programmers. The growth of the RMAD market shows the pent-up demand for 'coding-optional' tools to build apps quickly and cost-effectively. Application development leaders should use this research to select tools that offer immediate business value."
What is Rapid Mobile Application Development?
In the heavily read report, Gartner explains that "Rapid mobile app development (RMAD) capabilities can range from creating simple, stand-alone mobile apps to sophisticated transactional apps with integration to enterprise data and workflows." The report offers a comprehensive analysis of the RMAD market, including comparisons of product capabilities and functionality for vendors in the rapid application development market.
Alpha Software clearly offers one of the most robust development environments evaluated in the report. Alpha Anywhere is one of only a few vendors that meet ALL of Gartner's criteria of popular app features: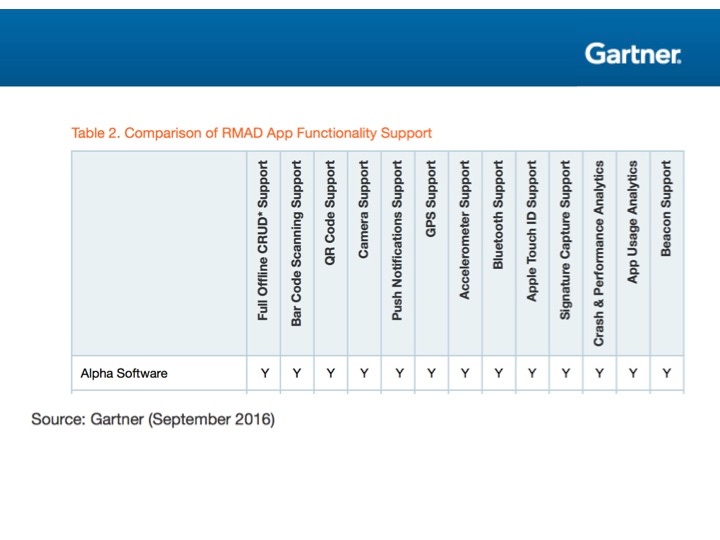 Source: Gartner Market Guide for Rapid Mobile Application Development Tools (September 2016)


In reviewing Alpha Software for this report, Gartner analysts give Alpha Anywhere low-code software credit for:


Use of Cordova versus a proprietary container, which many of the vendors on this list employ. Alpha prides itself on being a standards-based, open architecture and the report reflects this strength.
Allowing custom coding/editing, and generating editable code that enables users to build a basic business app and also add customized code at any point. This flexibility, a key tenant of Alpha Anywhere, is becoming an increasingly important enterprise criterion.
Having on-premise deployment. While cloud offerings are very important and is a technology capability Alpha remains focused on, on-premise deployment remains important to large enterprises with complex legacy systems.
Extensive training, mentoring and partner delivery options to fit a range of customer needs. Many other vendors in the market do not have offerings in this area, which are so important to quickly getting a wide range of employees proficient on a platform.
Alpha Anywhere delivers outstanding business user experiences on both Android and iOS mobile platforms and any size mobile device. The software produces mobile and web apps that perform like native apps.
What is the Gartner RMAD Market Guide?

The RMAD Market Guide has been a very popular read with Gartner clients since its release and has been ranked highly on Gartner.com by readers. Gartner Research Director Jason Wong, a co-author of the report, explained that readership of the report is on par with that of the Mobile Application Development Platforms (MADP) Magic Quadrant, in which Alpha Anywhere was recognized for enterprise integration and rich client-side workflow. Due to heavy client interest in RMAD market trends and vendors, Gartner plans many more reports in 2016 and 2017.
We're very pleased that report co-author Jason Wong will be attending this year's Alpha DevCon.
Read more details about why Alpha Anywhere stands out in the market as an RMAD platform.
Are you currently evaluating Rapid Mobile Application Development Platforms? Access our RMAD Buyer's Guide.
This 4-part rapid mobile application development buyer's guide is designed for anyone shopping for RMAD software. The guide offers the latest data on app development, the rise of citizen development, tips for software shopping -- from getting the best price to criteria to evaluate.
The report includes the perspective of an experienced developer looking to speed his development process with rapid mobile application development software. He discusses using programming languages and what he discovered as he shopped for an RMAD solution that could build outstanding user experiences on mobile applications and web applications.
One of the most valuable parts of the Buyer's Guide offers a list of enterprise capabilities that your team should ensure is in any product you evaluate to ensure that the platform can serve both IT teams and line-of-business users. For example, integration, security, and offline apps are discussed.
The guide also discussed pricing and licensing issues you'll encounter when shopping for a rapid app development platform. Part 4 of the guide offers tips for negotiating the best price, including:
types of licensing models and how they affect TCO

new services and training offerings that save BIG money

negotiating the best price and package with a software vendor.
Download your free copy of the Rapid Mobile Application Development Software Buyer's Guide.