Earlier this month, Gartner released the Market Guide for Rapid Mobile App Development Tools to help enterprise buyers understand the key considerations when evaluating RMAD products and the differences between some of the leaders in this market. This is an important new guide for decision-makers evaluating business app development tools:

"Mobile app development is not just for coders and programmers. The growth of the RMAD market shows the pent-up demand for 'coding-optional' tools to build apps quickly and cost-effectively. Application development leaders should use this research to select tools that offer immediate business value."

In the heavily read report, Gartner explains that, "Rapid mobile app development (RMAD) capabilities can range from creating simple, stand-alone mobile-only apps to sophisticated transactional apps with integration to enterprise data and workflows." The report offers comprehensive analysis of the RMAD market, including comparisons of product capabilities and functionality for vendors in the RMAD market.

Alpha Software clearly offers one of the most robust products evaluated in the report. Alpha Anywhere is one of only a few vendors that meet ALL of Gartner's criteria of popular app features: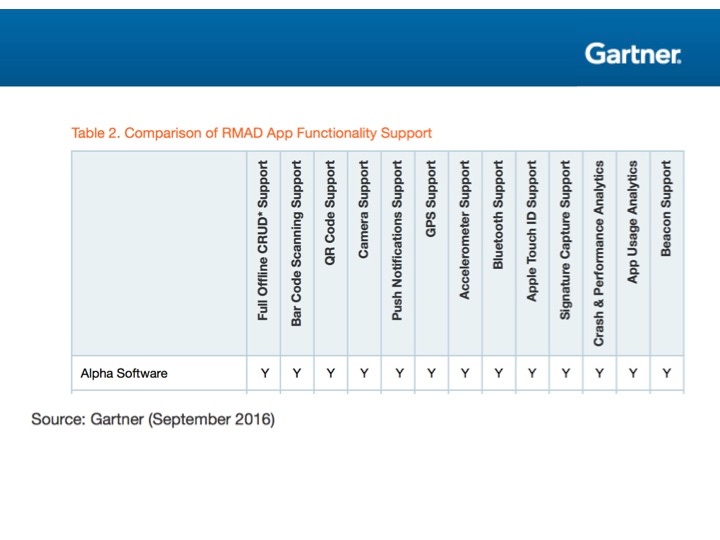 Source: Gartner Market Guide for Rapid Mobile Application Development Tools (September 2016)



In reviewing Alpha Software for this report, Gartner analysts give Alpha Anywhere credit for:




The RMAD Market Guide has been a very popular read with Gartner clients since its release, and has been ranked highly on Gartner.com by readers. Gartner Research Director Jason Wong, a co-author of the report, explained that readership of the report is on par with that of the Mobile Application Development Platforms (MADP) Magic Quadrant, in which Alpha Anywhere was recognized for enterprise integration and rich client-side workflow.Due to heavy client interest in RMAD market trends and vendors, Gartner plans many more reports in 2016 and 2017.

We're very pleased that report co-author Jason Wong will be attending this year's Alpha DevCon in Danvers, MA. For more information on Alpha DevCon 2016, click here.

Gartner clients can download the full Market Guide for Rapid Mobile Application Development Tools report here.

To read more details about why Alpha Anywhere stands out in the market as an RMAD platform, click here.