A newly released report from Michael Facemire and John Wargo at Forrester provides a comprehensive guide of the cost categories to consider in mobile initiatives. "Putting A Price On Mobile Strategy Business Case: The Mobile App Development Playbook" outlines Forrester's recommended methodology to help those tasked with business app development minimize cost and resource overruns during mobile app projects or wider mobile initiatives.

The authors advise professionals to look beyond the current mobile app project, collaborate with other line of business groups, and find other opportunities for infrastructure modernization and mobility to benefit the business. The report also stresses the importance of setting the right KPIs at the beginning of a project or initiative, then tracking them carefully to measure success.

The analysts advise: "Don't be a mobile technology lemming; simply because Facebook decided to move away from HTML5 doesn't mean that the rest of the market should do the same. To broaden organizational thinking beyond letting yesterday's infrastructure dictate tomorrow's choices, use the people, objectives, strategy, and technology (POST) method."

Forrester's POST method includes 4 key considerations:


People – who is the app for?
Objectives – what are the goals of the app?
Strategy – what are the short term and long-term strategies for the app?
Technology – what technology best meets these objectives and goals?
The report also shares some survey data clearly indicating that many businesses are failing to grasp the full potential of mobile: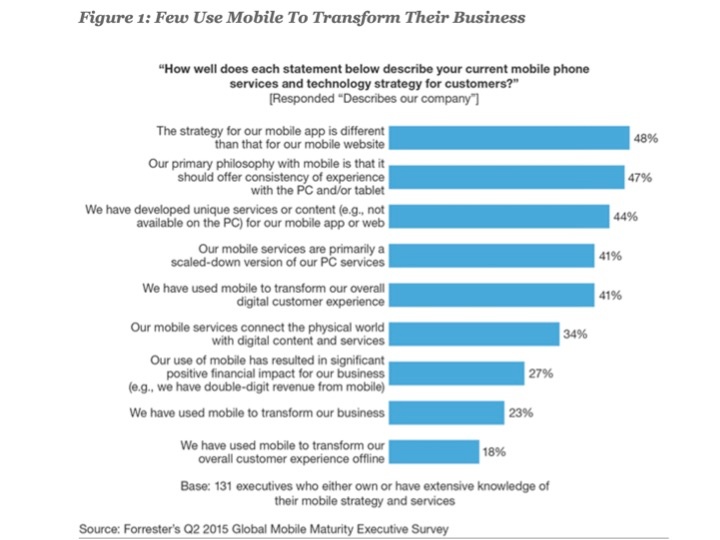 Mobile apps should not be a one-off project. Companies should think about the short-term and long term needs and then consider what other business apps are/will be needed and what technical requirements they have. Thinking through the problem and coming up with a playbook that meets today's and tomorrow's needs is the way organizations will success in the mobile app era.

To read the full Forrester mobile app development playbook report, click here.

To read a Baseline article about how Alpha Software helped one HR company establish a long-term mobile strategy while saving significant development costs, click here.