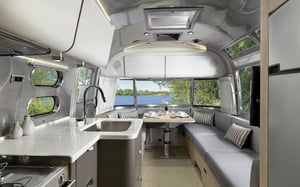 Quality inspection apps can ease data collection, speed data analysis and quickly improve product quality. Learn how mobile inspection apps help Airstream improve quality processes and cut costs.
What is the purpose of Quality Inspections?
The two aspects of quality management are quality assurance (QA) and quality control (QC). While sometimes used interchangeably, the two are different.
Quality Assurance (QA) is a process-oriented discipline that focuses on preventing quality problems. QA focuses on processes and procedures including training, documentation, monitoring, and audits. Quality Control (QC) is focused on discovering quality concerns in manufactured products that may affect customer satisfaction. QC focuses on evaluating the product to find defects after stages in the manufacturing process. QC tends to be a subset of QA.
What is an inspection app?
Quality inspections require the detailed, careful collection of manufacturing data. Traditionally, the inspection process is performed by inspection management using paper forms. Inspection apps turn inspection data digital. They allow managers to perform visual inspections and collect relevant data faster on smartphones and tablets. This means inspectors don't waste time shuffling papers around or obtaining physical signatures, and managers don't waste time waiting for critical quality production data. The benefits include raising quality standards, speeding business processes, improving data-driven decisions and stabilizing supply chains. Inspection data is then available in real-time to reporting software, inspection management software or other management systems.
Mobile Inspection Apps at Airstream: How to Conduct a Quality Inspection
You'd be hard-pressed to find a more iconic American brand than Airstream, which has been making familiar, silver-colored travel trailers since the 1930s. Back when the company started, the trailers were hand-built — and things aren't much different today. Eric Clinton, quality assurance manager at Airstream, told Engineering.com, "Airstreams are unique because they're hand-crafted. If you take a tour of our factory, you'll see that it's not like an automotive plant with things like robotic welding. We use a lot of manual processes and a lot of aircraft-type construction." It takes 350 hours and 3,000 rivets, on average, to build a single aluminum Airstream travel trailer.
But that doesn't mean that Airstream is living in the technological past. It turned to mobile technology when it wanted to reduce quality defects, improve root cause analysis and shorten production times. The problem was that its inspections were being done with paper forms, which was slow, laborious prone to errors.
Just as problematic was that there was no centralized point of help and information for inspectors. Rather, they relied on "tribal knowledge" — information locked up inspector's heads. Because of that, when an inspector left, the Engineering.com article noted, "losing an experienced inspector or training a new one were both far more costly than they needed to be."
So the Airstream quality team decided to build a custom quality inspection app. The app, in Clinton's words, "gives our quality auditors at the end of the line and throughout the plant a specified list of what to look for, as well as a list of attributes underneath each item that tells them what could be wrong with that item."
The mobile form app did everything Airstream wanted, and more. Clinton explains, "It allows us to capture all that data, as opposed to hand-written reports that have to be collated and sampled. It takes a long time to get that hand-written information back to a production manager. By capturing it electronically, we can get it back to them immediately."
This quality management software has resulted in better quality, reduced costs, and more data for Airstream to use to improve quality even further. One of the biggest benefits has come in how quickly the company can train new inspectors.
"We get new inspectors in through regular attrition and this makes it really easy to train them, because they can get up to speed on what we're looking for very quickly with the app," Clinton says. "I would say training has gone from a matter of weeks down to a matter of hours."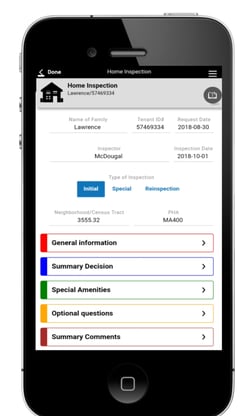 Compete with the Big Guys and Build Your Own Mobile Inspection Apps
The Alpha TransForm Quality Management Solution is ideal for building mobile inspection apps. It helps users craft online or offline mobile apps in minutes that utilize the latest mobile features (camera, GPS, etc.) for fast, accurate data capture. Apps for quality assurance or apps for quality control can be a key component of quality planning.
For real-live examples, read how Alpha Software helped the Building Engineering Company digitally transform energy inspections. And check out how an Alpha offline equipment inspection app helped a company increase worker safety and data accuracy.