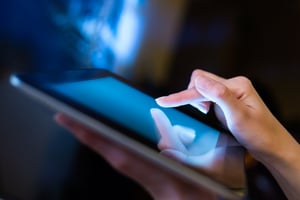 Experts agree that the best way to reopen safely in the COVID era is to go paperless. By moving to paperless processes companies can reduce paper waste, improve efficiency and keep people safer.
COVID is changing how team members work and how offices are laid out. Businesses need to reconfigure their physical layouts to allow for social distancing to hold down the risk of virus transmission.
Plexiglass and rules about physical distancing will not work if people are in close contact passing paper bills, forms, and documents.
Reducing paperwork by scanning documents and using mobile forms is essential to helping mitigate virus spread.
Reducing Paper Processes is Hard for Small Businesses
Establishing a paper-free work environment is easier said than done. Despite the benefits of going paperless, removing stacks of paper and becoming a paperless business is tough for small business owners. Add budget constraints and limited staff and the challenge only becomes greater.
Reducing paper requires removing filing cabinets and paper documents, and making the switch to cloud-based digital files. Companies that used to have important documents on paper often can't figure out how to deploy paperless document systems.
Business News Daily has some great advice in its article, "Tips and Services to Help Your Office Go Paperless." To go paperless during the COVID-19 pandemic, the article offers sound advice.
COVID-19 Demands that Companies to Go Paperless
Most companies are facing very difficult challenges during COVID. They've laid off employees or find resources to backfill sick employees or parents who have to take care of children. They're facing financial difficulty as business slows during lockdowns or people spend less money due to financial hardship. To go paperless during the COVID-19 pandemic, the article offers sound advice for companies with these types of challenges.
The publication recommends that you make the transition gradually, and don't expect to create a paperless office overnight. The article says, "The slow merger will allow you to properly implement new procedures and give your employees time to adjust. You may need to have some paperless systems work in tandem with your old systems during the adjustment period."
True Costs of Paper Processes
Record Nations reports some surprising data on paper documents in offices. The company reports:
Large organizations lose a paper file every 6 seconds.
Employees can spend up to 2 hours looking for files every day.
Managers can spend on average 4 weeks per year searching for misplaced and lost information.
For every $1 spent on printing, another $6 is spent on distribution.
On average, companies spend $180 to re-create a one-page document.
Benefits of Going Paperless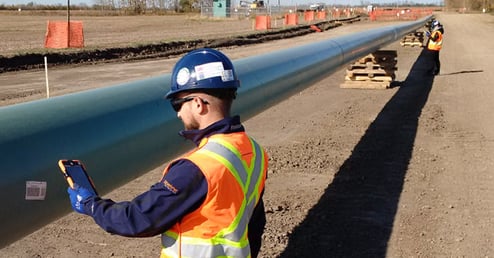 According to Record Nations, a paperless record management system cuts file processing down by roughly 4 days.
This incredible time savings is on top of:
filing cabinet and space savings
data input and administrative staff savings
improved data accuracy and security
improved data analysis and reporting
faster response to business opportunities and threats
When you move to a paperless office powered by data-driven apps, and you can gain a real competitive advantage.
Building a Paperless Office
Samuel Johns, office manager at Resume Genius had one excellent piece of advice. He advises that companies reduce the amount of paper individual employees can print by establishing a print credit system. He recommends that companies eventually move it to zero to discourage paper.
Get your employees involved in digital transformation at your organization. The article recommends, "Your employees should be involved in the decision process. Ask for digital platform suggestions and encourage feedback throughout the transition."
Along the way, review and digitize your business processes. Accept that you likely won't be able to become one hundred percent paperless immediately.
Taking Business Processes Paperless Business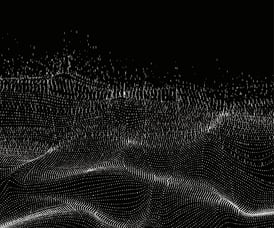 Cory Porteous, director of marketing at Office Interiors, says you should identify processes that create the most waste. Focus on these paper-heavy processes first and target them early.
"Select the one business process that generates the most of your printing," Porteous recommends. "By reviewing only one business process at a time, you will be able to avoid overwhelming your team."
Take advantage of the power of the cloud to deliver powerful enterprise apps. That will let you store digital documents easily and affordably, without having to set up new servers.
Finally, consider tracking paper use to chart your progress. Careful paper tracking is an excellent way to see what's working and what isn't. Identify the applications or workflows that generate the most paper, and make sure you digitize them.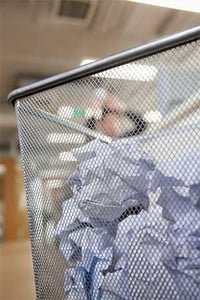 Delivering a Paperless Office
Once upon a time, developers had to build mobile apps for organizations, but this isn't true anymore. Non-code software allows a wide range of developers and business users to now build data collection apps. This means digital transformation can happen anywhere in the organization.
Employees that witness routine activities that generate a lot of paper, can explore turning those processes into mobile data collection apps. Innovation can occur virtually anywhere in the organization.
The Best Software for Going Paperless
Doing all this requires giving up the physical paper and using mobile forms. They can save companies a tremendous amount of money and eliminate time spent doing data entry or paper file searches.
Mobile forms can make any kind of data collection process faster and more accurate. Apps that collect data quickly using smartphone to capture images, GPS location, time and date, and even bar codes. You could imagine the time savings this could make for a role that constantly collects data, such as inspectors or pollers.
Alpha TransForm allows business workers and developers to digitize forms in under one hour per form page. A free trial and template forms are available to new users to try for free.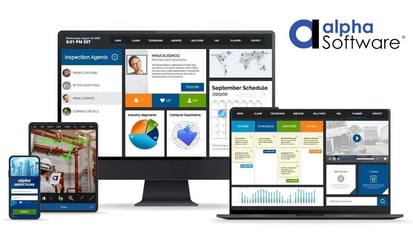 Virtually anyone can turn a paper form into a mobile app with the latest mobile phone features. The forms can work offline and developers can add advanced security and data integration features to apps. Alpha TransForm users can digitize a range of data collection forms. Inspection forms, work orders, scheduling forms, claim forms and more, have been digitized using Alpha TransForm.
For example, developers can use the built-in programming language to add more advanced capabilities. Functionality might include workflow triggering, pre-loading of forms data, web services integration, etc.
Now is the time to reduce paper-based processes, curb paper usage and get document management software in place. You'll save time and save money as you gain efficiencies across your business. With affordable pricing and flexible licensing models, Alpha TransForm lets you go paperless with low risk.
Get employees back to work with the Workplace Wellness App.