You take your mobile business app development extremely seriously, which is why you need low-code solutions as serious as you are. And while the market is flooded with a variety of tools and solutions all promising the same functionality, how can you tell which offering is the best low-code solution for your app development? And even more importantly, how can you be sure low-code solutions are right for your business needs? If either of these questions have plagued you recently, you've come to the right place. Read on to learn more about low-code tools and to determine if these solutions are right for you.
Why are development teams adopting low code solutions?
Development teams are look toward low-code solutions for two distinct reasons:
Can employing

low-code solutions

get he business app created faster than a conventional process can?
Does a low-code solution guarantee your ability to get the task done?
Outside of these two main driving reasons, some development teams opt to use low-code solutions as they can decrease budget by replacing non-automated processes.
What are the benefits of low-code solutions?
Before we get into the benefits of low-code solutions, let's first define them. Forrester Research explains low code solutions "rely on faster development techniques...[that] can speed delivery compared with coding. "Forrester calls these products "low-code platforms" defining them as: "Platforms that enable rapid application delivery with a minimum of hand-coding."
Forrester Research projects the market for such citizen developer rapid mobile app development tools to be some $3 billion by 2020.
Given this definition, it's clear that the benefits of low-code solutions rest in their ability to streamline and de-complicate processes that had historically been completed by coders.
How should you choose a low code solution?
In the three years we've been working with enterprises, the low code development platform market has evolved. Enterprise mobility strategies are also emerging. Many companies are adopting low-code software development to empower business users to create apps. To meet evolving requirements, buyers must consider three criteria when evaluating low-code solutions for building business apps:
Development speed:- Does the solution allow users to speed both developing and deploying mobile apps?

Does it eliminate route custom coding?

Can users quickly include the latest mobile device features, offline app capability, and responsive app design for iOS and Android devices? Speeding and easing these time consuming development activities can result in significant time and cost savings.
Confidence:- Does the solution ensure users can get business apps built, without the fear of running into a development wall? An unlimited low code development platform allows IT to write any code necessary to complete today's modern complex apps.

For example, can you do workflow automation or tie into business process management systems that businesses typically use?

Broad usability:- Does the solution appeal to both professional developers and business (citizen developers)? To be a true enterprise tool, a low code solution must serve both types of users. When low code can

help more users build applications

, you achieve true digital transformation.
Gartner predicts that more than half of all business apps will be created by citizen developers using low code solutions.
Pitfalls of Low Code Solutions
When speaking with people who've run into roadblocks with low-code tools, similar frustrations tend to be voiced. Often, the problems fall into a handful of areas:
Some drag and drop development products lack flexibility. While it can be quick and easy to build a mobile app with these products, when you need to add security or incorporate web services, these products quickly hit their limits.
Some low-code products aren't really "low code". It's not uncommon to speak to frustrated users who are still having to do a lot of coding with their new "low code" products. This can be a deal breaker for companies that make a low-code product purchase to serve citizen developers who don't have expertise in coding.
Some low-code platforms have hidden costs. When users need to connect to new data sources or add new features to their apps, such as SMS notifications, some low code solutions require additional investment. This can hurt companies with tight budgets or who need management approval for additional technology purchases.
Some low code solutions don't allow for on-premise hosting. While deploying to the cloud is the norm these days, some industries, such as healthcare, financial services or government, have strict security protocols that require them to host their own apps. This can be a problem if the solution only allows cloud publishing, and doesn't enable on-premise hosting.
What is an example of a low-code solution?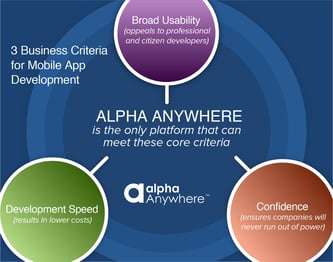 Alpha Anywhere is the only low-code apps platform that meets all three of the above criteria. This solution combines low-code development with a complete set of features that speed cross platform mobile development.
This low code development solution will never run out of power, skip key functionality, or leave end-users in the lurch. It's the ideal low-code, rapid application development and deployment environment for building custom apps.
It is the best low-code solution platform for both citizen developers and professional developers. Users of all skill levels can quickly become proficient in low code development. They'll be able to build mobile forms and business applications that run across all iOS and Android devices.
Build and deploy mobile apps for free with the Alpha Anywhere Community Edition low code solution.
Read why low-code development platforms create applications at record speed in our comprehensive Low Code Development Handbook.
Get advice on selecting a low-code solution
Need help selecting a low-code solution for your organization? Learn how one developer reviewed code automation platforms, investigated business process automation and tested development speed.