If you're serious about mobile business app development, you need a low code solution that can handle the job. A careful look at the state of low code solutions.
Why are companies adopting low code solutions?
There are two key metrics that can make or break a low code solution:
Can you get the business app created fast?
Does it give you full confidence in your ability to get the task done?
What are the benefits of low-code solutions?
Forrester Research explains low code solutions "rely on faster development techniques...[that] can speed delivery compared with coding. "The Forrester wave calls these products "low-code platforms". Forrester defines them as: "Platforms that enable rapid application delivery with a minimum of hand-coding."
Forrester Research projects the market for such citizen developer rapid mobile app development tools to be some $3 billion by 2020.
How should you choose a low code solution?
In the three years we've been working with enterprises, the low code development platform market has evolved. Enterprise mobility strategies are also emerging. Many companies are adopting low code software development to empower business users to create apps. To meet evolving requirements, buyers must consider three criteria when evaluating low code solutions for building business apps:
Development speed. - Does the solution allow users to speed both developing and deploying mobile apps? Can they quickly include the latest mobile device features, offline app capability, and responsive app design for iOS and Android devices? Speeding and easing these time consuming development activities can result in significant time and cost savings.
Confidence. - Does the solution ensure users can get business apps built, without the fear of running into a development wall? An unlimited low code development platform allows IT to write any code necessary to complete today's modern complex apps.
Broad usability. - Does the solution appeal to both professional developers and business (citizen developers)? To be a true enterprise tool, a low code solution must serve both types of users.
Gartner predicts that more than half of all business apps will be created by citizen developers using low code solutions.
What is an example of a low code solution?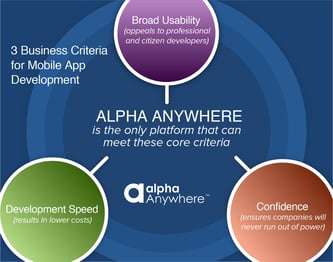 Alpha Anywhere is the only low code apps platform that meets all three of the above criteria. This solution combines low code development with a complete set of features that speed cross platform mobile development.
This low code development solution will never run out of power, skip key functionality, or leave end-users in the lurch. It's the ideal low-code, rapid application development and deployment environment for building custom apps.
It is the perfect low code application platform for both citizen developers and professional developers. Users of all skill levels can quickly become proficient in creating mobile forms and business applications that run across all iOS and Android devices.