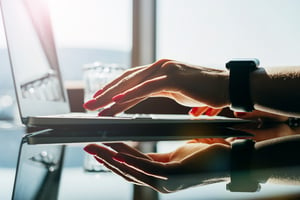 Many businesses are turning to low-code development to enable their digital transformations, but what are actual low-code examples representative of digital infrastructure? Let's take a look at three low-code case studies, and see how changing industries can benefit from the agility low-code development offers..
The Growing Importance of Low-Code Development
Low-Code Development continues to gain popularity as it eliminates the need for custom code. Gartner says that by 2024, low-code will be responsible for more than 65 percent of all app development. Gartner adds that "By 2024, three-quarters of large enterprises will be using at least four low-code development tools for both professional development and citizen development initiatives."
"By 2024, three-quarters of large enterprises will be using at least four low-code development tools for both IT application development and citizen development initiatives." - Gartner, 2020
There's a good reason for that. John R. Rymer, a principal Forrester analyst, says that low-code development platforms "have the potential to make software development as much as 10-times faster than traditional methods." The market for them, he adds, is seeing annual growth of about 50 percent.
Low-code application platforms can be used by development teams for many purposes. But an article in TechRepublic points out three low-code examples that are particularly beneficial, regardless of industry.
Low-Code Example #1 - Digital Transformation Projects
The first of many ways to use low-code development is, "digital transformation projects focused on improving the customer experience and building mobile apps." That's probably the most familiar low-code example to businesses, and one of the primary ways that low-code platforms are now being used.
Forrester's Rymer notes that low-code development environments "have the potential to greatly decrease the time needed to meet business requirements. Current usage indicates that these platforms can propel software development to 10-times the speed of traditional processes. Faster development means more leeway to focus on design."
By transitioning cumbersome development processes to low-code platforms, your organization can not only drive innovation, but also increase speed-to-market. In an increasingly digital world, being able to keep up with a shifting landscape is vital for success. When you adopt a low-code platform, you future-proof your organization, enabling you to pivot as needed.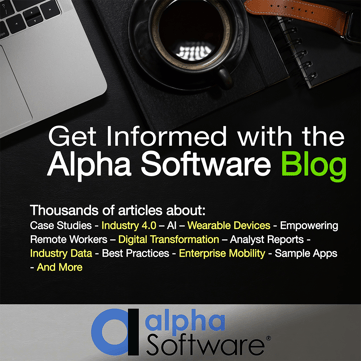 Low-Code Use Case #2 - Greenfield Work
The second primary low-code use case, according to TechRepublic, is "greenfield work: a service or product built from scratch, basically the opposite of modernizing business apps. Greenfield apps represent a new opportunity that a business wants to take advantage of or a small-scale experiment that a business unit wants to conduct."
By creating and implementing greenfield apps, organizations are afforded the rare opportunity to bypass existing infrastructure and create new processes and pathways. When organizations opt to create these business apps through low-code platforms, not only can they start from scratch rather than relying on existing infrastructure, but they can greatly reduce the conventional cost associated with bespoke app development.
With this saved capital and clean slate, creation of greenfield apps can drive cross-organizational innovation, optimizing existing processes and indicating inefficiencies.
Low-Code Example #3 - Updating Legacy Systems
About the third primary use case, the article notes, "In addition to building brand new products, low-code also works for bringing legacy systems into the 21st century IT architecture." Low-code platforms, also called rapid application development platforms, automate so much of the programming work, meaning companies can better predict how long the projects will take and can plan better for them. They also tie into business process management systems, further expanding the impact of well-made business applications.
---
Read Case Studies of Alpha Software Customers Updating Legacy Systems with Low-Code App Development
---
There are of course many other low-code use cases beyond these three. Rymer says that low-code platforms "Harness the forces of shadow IT for good, not evil. To deal with gaps in app portfolios, tech-savvy business experts have long been known to take the issue into their own hands -- often doing more harm than good. Low-code can harness these 'rogue IT activities by hosting them on managed platforms and adding guardrails to expand software delivery capacity."
And he concludes, "They play a vital role in automating operational processes." The article continues, "Low-code platforms with strong business process features can accelerate these projects and empower the business experts who know the data and process best to lead."
Changing Industries Require the Agility of Low-Code Development
The world continues to become more digital. Even in industries that have been slow to embrace digital transformation, new technology is constantly improving the way things are done.
The right technology helps businesses become more efficient, communicate better, expand their operations, offer new services for their customers, and improve the customer experience, and this is true across a wide range of industries:
[should we link these to our vertical landing pages? (links to each here: https://www.alphasoftware.com/industry-solutions) ]
If businesses are going to keep up with the competition and their customers' expectations, then they've got to be agile. It's no use investing in an app that's going to come online a few years down the line if you need it now.
Digital transformation is an urgent issue for businesses and low-code development gives them the agility they need without compromising on quality.
Choosing the Best Low-Code Development Platform
Alpha Anywhere and Alpha TransForm are ideal low-code, no-code tools for business users or professional developers. These alternative paths to traditional application development allow users to build, customize or test new apps faster. They can work as a single platform or separately, and are ideally suited for helping enterprises scale digital transformations.
Alpha TransForm helps business users turn paper forms into mobile apps with great user interfaces in minutes. These mobile forms utilize the latest mobile features (camera, GPS, etc.) for fast, accurate data collection on smartphones and tablets.
Alpha Anywhere has the unique ability to rapidly create mobile forms and field apps that can easily access and integrate with any database or web service and can exploit built-in role-based security or robust offline functionality. The software can handle functional requirements needed by enterprises and can help companies collect accurate data for machine learning
Conclusion
These are just three of many low-code use cases, but our case studies show that low-code development can help businesses in many different ways.
Business is constantly changing, no matter what industry you're in, and a lot of this is being driven by technology. To succeed in this changing landscape, businesses need to be agile with their digital transformation, and that's exactly what low-code development allows them to do.
Build with Low-code. No coding experience required: Try Alpha TransForm for free to understand why it outperforms other drag-and-drop app builders. Includes pre-built app templates.