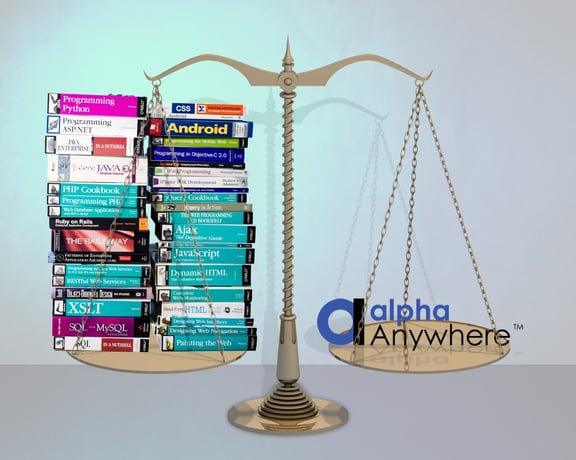 With Alpha Anywhere you can build robust enterprise web and mobile business applications extremely rapidly without having to become an expert in a myriad of front end and back end technologies that normally are required to build mobile business applications. We recently sent a few of our customers some preview videos of our upcoming capability re building mobile applications that can also work offline. This is the verbatim reply from one of the teams using Alpha Anywhere to build web and mobile applications for their enterprise. It worth noting that in a recent study by VDC Research 89% of Enterprise Developers surveyed indicated that they regarded "offline" support in a mobile development platform to be either "very or critically important."
"Subject: I've finally gotten around to look at your videos about the disconnected view and they're spectacularly impressive
On Mon, Jan 20, 2014 at 3:11 PM, Mr. Griggs (from American Pool Enterprises) wrote:
In truth, I didn't think this was possible and certainly not with the unambiguous clarity that the example videos imply.
I used to develop using the Palm Pilot for JUST THIS kind of offline moment and used a palm sync server and MS Access to push up the changes about 8 years ago.
Palm pilot is no more and your solution is far superior because:
II don't need a separate sync server, the regular Alpha server does this

I don't need a specific brand (e.g. Palm Pilot) of handhelds, I can use any device that can bring up a web interface (like Chrome)

The syncing provides for optional programmatic conflict resolution
To my knowledge, there is no program currently on the market that can do everything that Alpha does.
You should be grabbing market share like gang busters. I was thinking about how better to explain to non-Alpha programmers or people who'd like to program but think it's too complex how truly rapid and feature rich Alpha Software is. Especially when you consider this disconnected functionality you'll provide.
I've come to the conclusion that for old school programmers who are used to unnecessary complexity, the implied simplicity of Alpha might put them off.
A programmer who writes in ASP.NET and takes a week to do what I can do in a day might not like this program because it make it seem like he's slow in his chosen language.
I think the case has to be made that just because Alpha's RAD tool is much faster doesn't make it less Enterprise worthy, especially since you hit MS SQL on the back end data wise.
Keep up the good work."
About American Pool Enterprises http://www.americanpool.com/about-us/
Mr. Griggs, MIS and Ms. Snyder the CIO at American Pool have been using Alpha Anywhere to build a range of web and mobile apps for American Pool to enhance workflow and productivity for the company. American Pool was founded in 1984 and has since grown to be the largest commercial swimming pool management, maintenance, construction and recreational facility management operation in the United States. We currently have 23 wholly-owned subsidiaries that are operating in 14 U.S. States and Washington D.C. Internationally, we have locations in Toronto and Ottawa, Canada. As a whole, our company serves over 3,000 commercial swimming facilities and over 7,000 residential pools. Commercially-focused American Pool companies service apartments, homeowner associations, country clubs, swim clubs, hospitality businesses, condominiums, fitness clubs and active adult communities. Essentially, any commercial property with a pool or aquatic element (like a fountain). In addition, we employ over 6,500 lifeguards and 250 full-time, year-round employees. Our operations are presently concentrated along the U.S. East Coast with expansion efforts looking to broaden this base. Our business support team for all offices and our executive Leadership are located in Owings Mills, Maryland.
Note: New capabilities are constantly being added to Alpha Anywhere and current customers automatically become eligible to use these new capabilities as soon as they become available.
If you want to view the videos regarding disconnected/offline support coming in Alpha Anywhere, please email marketing@alphasoftware.com (please include the word "offline" in the subject and provide a company email address.)