Developers looking for an alternative to Microsoft Access so they can bring their databases on line now have an ideal solution.
Alpha Anywhere is a low-code app development platform that offers full stack capabilities for building web and mobile database applications. It's ideal for migrating your Microsoft Access applications to web and mobile devices.
Many business database applications have been built using Microsoft Access. In today's mobile age, however, Access developers are discovering that the Microsoft tool is incapable of building mobile and web apps. Alpha Anywhere can extend your Access applications.
Alpha Anywhere can connect to a variety of data sources. This offers developers an alternative to Microsoft Access to meet their web and mobile needs.


Why Microsoft Access Developers Like This Alternative
App Developer Magazine wrote a very favorable recommendation of Alpha Anywhere:
"Alpha Anywhere makes it much easier to build responsive HTML5 applications once, and deploy them on any device."
InfoWorld recognized Alpha Anywhere for its offline apps capability with Technology of the Year Award. TechTarget awarded Alpha Anywhere with Product of the Month recognition.
Here is what real-world Access developers say about using Alpha Anywhere as an alternative:
Art Fuller in "The Access Developer's Dilemma": "In a word, I love Alpha. It answers every demand I currently place on a development product."

Keith Erdman, FilePro Consulting: "I was able to quickly and easily take Microsoft Access applications and turn them into mobile apps."

Dave Laskowski, CTG3: "Alpha Anywhere was a great fit and the closest thing I could find to Access for the Web."
Why Do Developers Recommend Alpha Anywhere as an Alternative?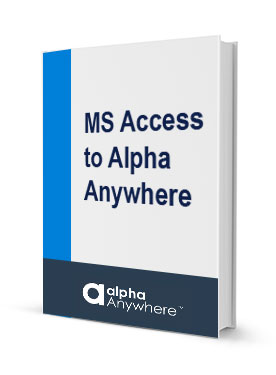 Developers say Alpha Anywhere is the product Microsoft should have created. They appreciate the software's ability to:
Connect directly to all Microsoft Access data sources.
Extend existing Microsoft Access applications with extensions written in Alpha Anywhere, or build new applications while maintaining their existing database.
Create applications for all web browsers.
Create applications that run smoothly on all mobile platforms (iOS, Android, and Windows), and devices (tablets & smartphones).
Easily upsize their Access data to MS SQL, MySQL, and other database backends.
Get started with no coding required. Just fill out property sheets to tell Alpha Anywhere what to do.
Add code where needed. (Alpha Anywhere provides two programming languages: XBasic (similar to Visual Basic) and JavaScript.)
Scale to thousands of users.
Work without Microsoft Sharepoint.
You Can Try this Access Alternative For Free
Alpha Anywhere offers a free trial for Microsoft Access users who need to extend their applications. You can easily begin taking your Microsoft Access applications to the web and mobile devices.
Want More Information on this Alternative to Microsoft Access?
We've provided links below to two success stories of developers who used Alpha Anywhere:
Further reading: