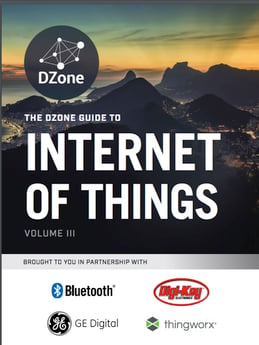 With more than 1 million members, DZone.com is one of the web's largest communities and publishers of technical content for software professionals around the world. Each year, DZone puts out several key market guides, offering developers qualified content to help them understand key trends from market influencers so they can best hone their skills and advance their careers. This month, DZone issued one of its most anticipated guides of the year: The DZone 2016 Guide to the Internet of Things.

As a major influencer in mobile application development trends, Alpha Software contributed an article to this year's guide. "For Wearables in the Enterprise, The Future is Now". In the article, I offer some of the latest research data indicating enterprise intent to purchase and leverage wearable technology in 2016 and beyond. Examples of the types of statistics included in the article:


Worldwide wearable device sales will generate total revenue of $28.7 billion in 2016, up 18.4% over 2015. (Gartner)
Smartwatches represent the greatest revenue potential among all wearables through 2019, reaching $17.5 billion.
Head mounted displays (HMDs), will become mainstream devices, growing from 140,000 units sold in 2015 to 6.31 million in 2017. (Gartner)


The article also provides suggestions on ways developers can begin to explore possibilities with wearable technology:

"Given the adoption of mobile devices and wearables in enterprises, what is considered a business productivity app will change. While spreadsheets and other traditional business applications won't go away, developers will need to hone their skills to develop critical task-based apps or alerts that work well on smaller screens or incorporate mobile data like voice, photos or video.
Clearly, wearables are poised to become big in the enterprise this year — and there's plenty that developers can do today to be prepared. The following table summarizes the offerings of four vendors that provide tools to help developers begin to integrate wearable technology into enterprises: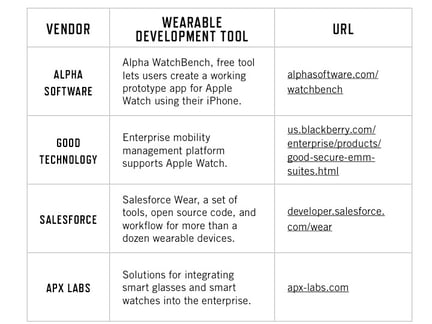 Source: DZone 2016 Guide to the Internet of Things, "For Wearables in the Enterprise, The Future is Now," by Amy Groden-Morrison, July 2016



To read the full article and get access to the complete DZone Guide to the Internet of Things, click here.

To read more about the explosive growth of wearables in enterprises, click here.

To read more about Alpha WatchBench, click here.