Countless experts have said that the key to reopening safely during the age of COVID 19 is the creation of paperless systems.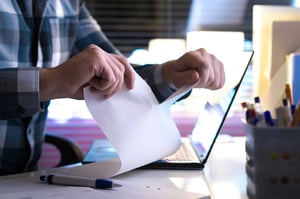 No longer can large and small businesses have paper documents are the core of the way they work. A paperless office reduces face-to-face interactions, allows people to social distance, and reduces the chance of transmitting the virus.
Countless industries are moving to digital files and going paper free. From Hollywood to the import and export business and beyond, companies are turning themselves into paperless businesses.
The article "COVID-19 is Speeding the Transformation to a Paperless Hollywood" notes, "One of the few positive things to emerge from the COVID-19 pandemic has been the increased push for a paperless Hollywood that has resulted from it."
Here's one example. Bernie Laramie was a producer of the film "Death in Texas," starring Bruce Dern, Lara Flynn Boyle and Stephen Lang. Production had to be shut down briefly because of the pandemic.
Eventually, Laramie said, for post-production work they moved to digital documents. As a result, he said, the film was produced "without really anybody sending any forms or paper around."
He added, "Everything we're getting from production has been scanned for archival purposes, as well as distribution and sharing." Almost all of the post production process was "pretty much completely paperless."
The article "DB Schenker India takes imports and exports paperless to beat Covid blues" details how an import/export business based in India has been using digital documents to operate safely and more efficiently. The switch to electronic has been key.
Vishal Sharma, CEO of Cluster India and Indian Sub-Continent, DB Schenker said,the company is managing its business, "without being onsite and in a paperless manner. We started the process with lockdown and are continually working on a paperless environment, reporting automation, deployment of bots for monotonous activities and most importantly moving towards digital invoicing with partners and customers. Our preparedness with our business continuity plan has allowed us to scale up our mobility ratio to over 90%."
He concluded that paperless working, "Will be the end game strategy to make our supply chain ecosystem agile, efficient and scalable."
How to Digitize Paper Forms Fast and Cost effectively
To eliminate or reduce paper and go paperless companies need to digitize their paper forms.
Alpha TransForm (free trial and template forms available), is ideal for the task because it allows both developers and non-developers to digitize forms of ANY COMPLEXITY for under 1 hour of work per page of a form.
Coding is optional, so virtually anyone can turn a paper form into a mobile app with the latest mobile phone features (camera, GPS, time/date stamping, signatures, etc.).
The forms can also work with or without a cell or WiFi connection. Power users can use the built-in programming language and on-device database storage to add more advanced capabilities if required, such as database and reference material looks, workflow triggering, pre-loading of forms data, web services integration such as google weather reporting, etc.)
With affordable pricing and flexible licensing models, Alpha TransForm lets companies go paperless and build all the mobile forms they need for their business. Companies have Alpha TransForm to digitize a range of data collection forms, such as order intake forms, inspection forms, quality maintenance forms on shop floors, construction punch lists, safety forms, patient data collection/record-keeping forms, government forms, and more.
Whichever solution companies decide to work with, the time to go paperless and embrace no-code software that produces digital documents is NOW. By moving today to a paperless office, companies and institutions will be ahead of the game with solutions already in place that will allow their organizations to reopen in a safer and responsible way.
Business Resource: How to Reopen Safely
As more organizations take the first, tentative steps to reopening, it's clear that businesses will be going paperless. To enable their organizations to thrive in a post-COVID world, business leaders must take bold action to accelerate digital transformation. Alpha Software allows organizations to rapidly digitize workflows and paper forms today and respond quickly to unseen challenges tomorrow. Learn how to quickly go paperless and inspire confidence with your employees and customers.