By going paperless, businesses can reopen safely while gaining efficiencies across their business systems.
Countless experts say the key to reopening safely during the pandemic is switching to paperless offices.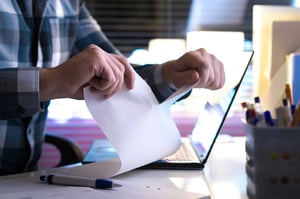 According to formstack, over 10,000 pieces of paper pass through the average worker's hands each year. The company estimates that 45% of paper printed in offices ends in trash barrels each day. It also reports that companies spend more than $120 billion a year on printed forms.
Paper usage must be discouraged in offices as we combat COVID-19. Large and small businesses can no longer use paper documents as the core way they work. A paperless office reduces personal contact, allows people to social distance, and reduces the chance of transmitting the virus.
Countless industries are scanning documents, creating mobile forms and creating digital files to go paper free. Paper bills and filing cabinets are becoming a thing of the past. From Hollywood to the import and export business and beyond, all sized businesses are creating a paperless processes.
MesaOnline.com notes that one positive results of COVID-19 has been "the increased push for a paperless Hollywood."
Benefits of a Paperless Business Process
In addition to combatting COVID, moving to paperless business processes has a wealth of benefits. I recently cited one data point that suggests employees can spend up to 2 hours looking for files everyday. Over months, this can really cost companies significant time and money.
Here's one example of the benefits companies realize when they build paperless processes. Bernie Laramie was a producer of the film "Death in Texas," starring Bruce Dern, Lara Flynn Boyle and Stephen Lang. Production had to be shut down briefly because of the pandemic.
Eventually, Laramie said, for post-production work they moved to digital documents. As a result, he said, the film was produced "without really anybody sending any forms or paper around."
He added, "Everything we're getting from production has been scanned for archival purposes, as well as distribution and sharing." Almost all of the post production process was "pretty much completely paperless."
Building a Paperless Office
CIO.com details how one company has been using digital documents to operate safely and more efficiently. The switch to electronic has been key.
Vishal Sharma, CEO of Cluster India said the company is managing its business, "without being onsite and in a paperless manner. We started the process with lockdown and are working on a paperless environment. Our preparedness with our business plan has allowed us to scale up our mobility ratio to over 90%."
He concluded that paperless working, "Will be the end game strategy to make our supply chain ecosystem agile, efficient and scalable."
Business.com offers tips for creating a paperless office. Among the recommendations the publication suggests are;
removing printers and copiers
enabling digital scanners
eliminating fax machines
providing paperless training for staff.
Another way to move to paperless systems is to train employees to use software that turns paper forms into mobile apps.
Software for a Paperless Office
To eliminate or reduce paper and go paperless companies need to digitize their paper forms.
Alpha TransForm saves time because saves time because you can digitize each page of a form in under 1 hour. Anyone can use the product, but power users have to option to build mobile forms with advanced security and storage capabilities. The forms can also work with or without a cell or WiFi connection.
Alpha TransForm offers affordable pricing and flexible licensing models to take businesses paperless and build mobile forms. Companies can digitize a range of data collection forms with the software and increase data accuracy and productivity.
By adopting a product like Alpha TransForm, companies can embrace electronic document management and reopen in a safer and responsible way.
Create a Paperless Business
As organizations reopen, it's clear that more will be going paperless and adopting document management solutions. To enable their organizations to thrive in a post-COVID world, business leaders must take bold action to accelerate digital transformation. They will need powerful document management systems and flexible document management software.
Alpha Software allows organizations to rapidly digitize workflows and paper forms today and respond quickly to unseen challenges tomorrow.
Learn how to quickly go paperless and inspire confidence with your employees and customers.
Get employees screened for COVID-19 and back to work with the AlphaMED Workplace Wellness App.