Below, David Kates—an experienced MS Access turned Alpha Anywhere developer—discusses pivotGrid, a database software solution built in Alpha Anywhere that makes cross-tab data display and data visualization extremely easy.
What is pivotGrid?

pivotGrid is a way of taking information and "pivoting" it in order to display that data as more of a snaphot or image of how that data looks. Another name for this is a cross-tab display of data.

Normally we'd enter data one record at a time and then display that data in a regular--but very nice looking--grid: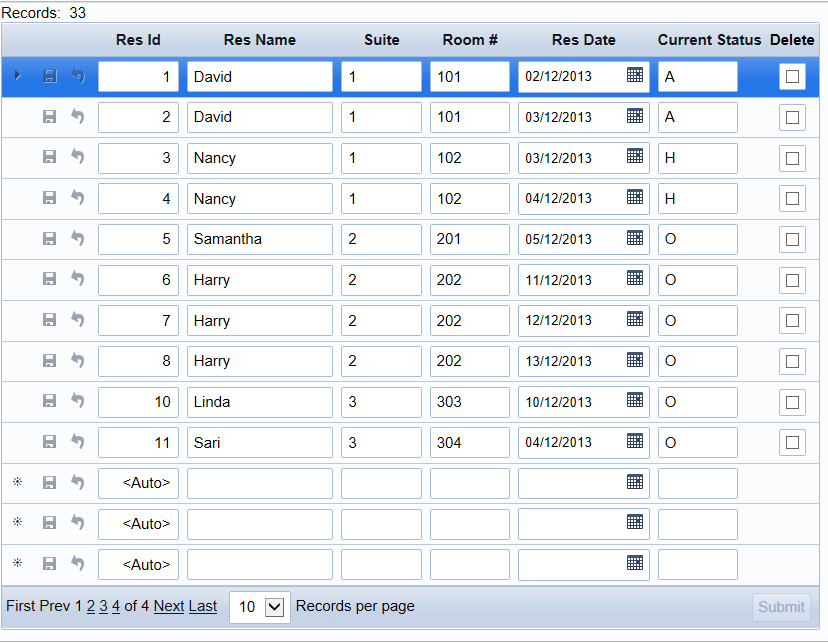 But, to get a really good idea, in this case, of what reservations look like within a specific period of time we need to look at the data a bit differently. This can also be applied to financial data where we need to look at information over months or quarters.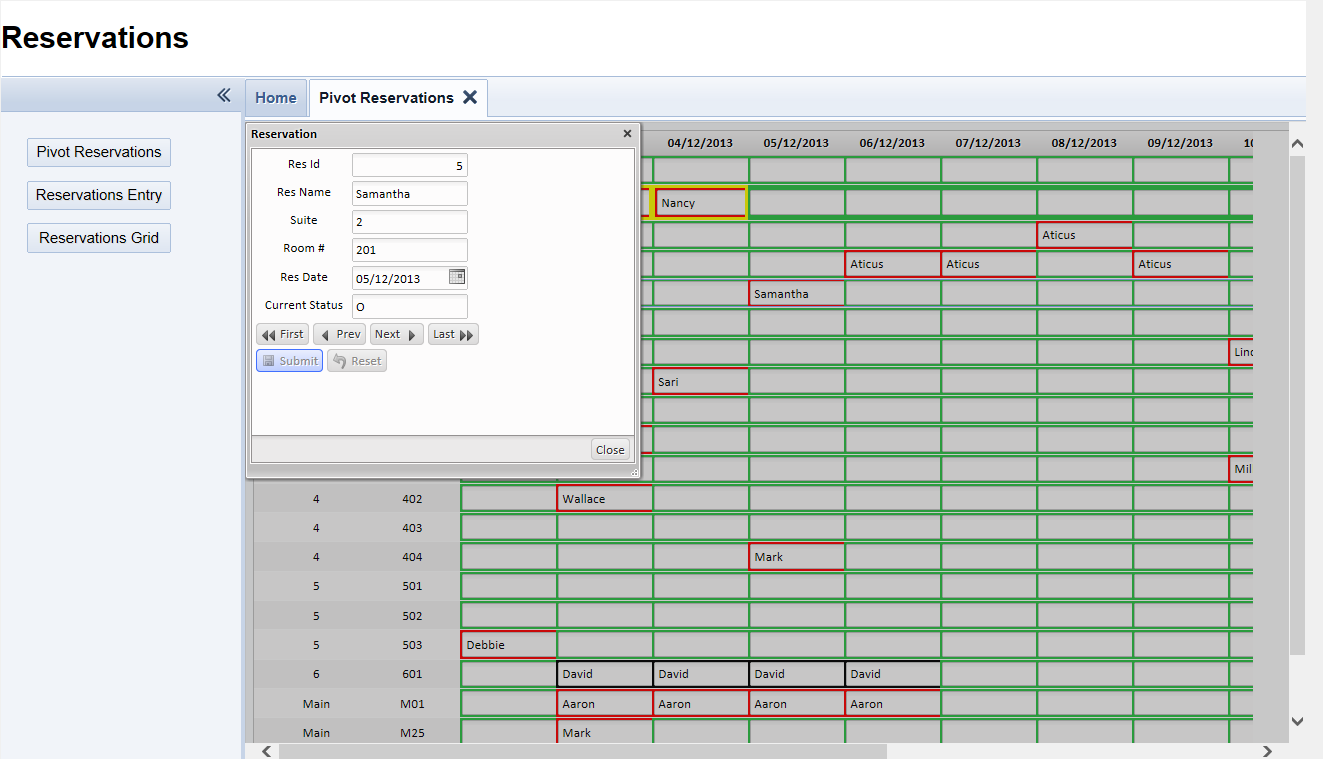 Using SQL Stored Procedures as a Data Source
We're allowed to do this because the Alpha Grid lets us use a SQL Stored Procedure as a data source.

Alpha Anywhere has some rules when it comes to using Stored Procedures as a grid data source. We must provide a record count and other information ourselves because the grid doesn't talk to a Stored Procedure the way is usually does with a normal data source.

pivotGrid comes with 4 Stored Procedures which look after initializing the grid for design work, taking care of record count and paging, and the SP that actually pivots the data.

But the Grid isn't the only piece of the pivot puzzle. An accompanying A5W page takes care of dynamically creating the columns we need for the grid. "Dynamic" is a key word here because usually with cross-tab data you build a procedure, grid, or report around a static set of pivoted data. If you change the data, you must alter the grid or report to accommodate more or less data columns.

However, Stored Procedures for SQL Server and MySQL can be created that give us a dynamically changing set of data. Further, we base the grid columns on the incoming data. We build the columns as needed.

Not only do we get pivoted data displayed in a regular looking grid, but the features of that grid are still available to us. Conditional Styles can still be applied and JavaScript events can still be accessed.

This combination of Stored Procedures, the Alpha Grid and A5W page demonstrate an amazing power behind Alpha Anywhere components. That we can take "regular" components and tools, turn data on its head, and display that data is wonderful...but not really surprising where Alpha's data-driven app development tools are concerned.

How to Purchase pivotGrid
pivotGrid is available in two versions, pivotGrid and pivotGrid+ directly from David Kates.

pivotGrid which will let you create and display pivoted data in a grid. No conditional formatting or events. Just great pivoted data.


$99 : Single Developer and Server Licence
$499 : Single Developer License and Unlimited Server Licence
pivotGrid+ adds the ability to use conditional formatting and events.


$198 : Single Developer and Server Licence
$999 : Single Developer License and Unlimited Server Licence
For conditional formatting and events David will take you through the process of how to create and add this formatting. There isn't a wizard or genie. It's a little bit of work but uses all the standard processes that Alpha uses.

Please contact David Kates at rune.dkates@rogers.com for more information.