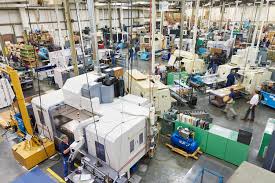 Lean manufacturing involves the use of many tools to improve operational efficiency. Examples include 5S, kaizen, gemba, kanban, heijunka, and poka-yoke. While lean is often thought of as a manufacturing practice, many lessons can be applied to any business to improve results. Take for example, the practice of 5S, a foundational part of lean manufacturing because it focuses on a clean organized workspace.
5S - which often takes the shape of a "5S Audit" -- assesses workspaces to ensure maximum efficiency, worker safety, and less waste. An organized facility increases the likelihood that production will run smoothly. This 5S system, which began as a manufacturing method used by Toyota, focuses on putting everything in its proper place and keeping workspaces clean. The term "5S" comes from five Japanese words that represent a 5-step process for organizing spaces so work can be performed efficiently, effectively and safely:
Sort (Japanese: Seiri)
Set in Order (Japanese: Seiton)
Shine (Japanese: Seiso)
Standardize (Japanese: Seiketsu)
Sustain (Japanese: Shitsuke)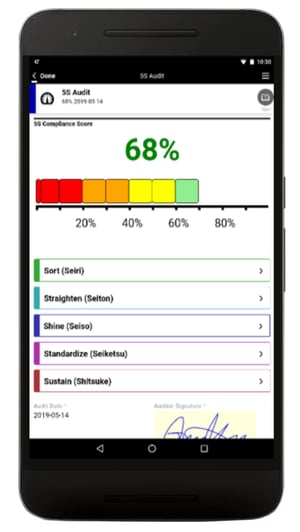 An unkempt space interrupts the production process with mistakes, production lags, and, worst of all, accidents. Implementing a 5S Audit for the workplace is one of the best solutions companies to do to solve these issues, along with addressing space management and inventory waste. 5S improves the overall function of a business by making it easier for people to work efficiently and safely by eliminating needless time wasting and on-the-job injury. Benefits of conducting 5S Audits regularly include:
increased productivity
lower costs
improved quality
increased worker safety
higher worker satisfaction.
A 5S Audit App You can Begin Using Today - For Free
Once you decide to adopt a 5S Audit process, there are key questions to answer. How do you plan to capture the audit data and ensure a complete assessment is done correctly? How can you share the audit to important team members responsible for inventory, cleaning, equipment repair or employee safety? How will you measure improvements over time?
The Alpha Software 5S Audit App which helps companies begin a systematic approach for 5S Audits, including fast capture, sharing and reporting of the data associated with these audits. Using the Alpha 5S Audit App, companies will improve productivity, cut down on time and inventory waste, and decrease risk of employee injuries.