Recently work management company Wrike surveyed 850 professionals from a variety of enterprise departments. While respondents viewed mobile devices as essential, they listed a range of problems and business productivity issues, including app inefficiencies, limited app functionality, the unique challenges of mobile data capture, disconnected situations, and limited device storage.

While business users clearly want to use mobile devices more in their daily work life, they continue to uncover limits in the web apps and mobile apps their companies are deploying. In fact, IDC and Forrester recently warned CIOs on the dangers of failing at mobile app development.

Through our work with enterprise customers and our surveys of mobile and web app developers and end users, Alpha Software has identified 7 critical business app capabilities that are required to meet the real world needs of corporations today. While every app may not require each capability, developers must be able to address these types of business app requirements. To produce mobile business apps that are widely adopted by end users (the true measure of a successful mobile app), business developers must address these 7 critical business app capabilities.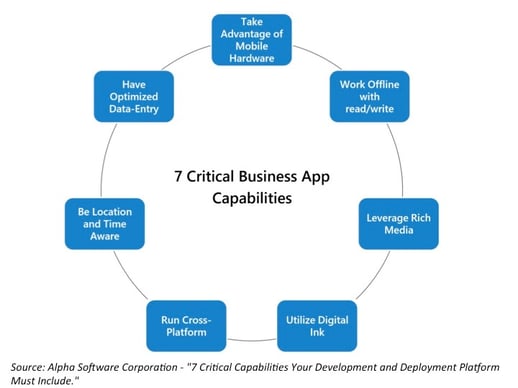 Click here to download the whitepaper