What Should You Look for in a Development Product?
Level of Completeness, Speed of Development, Coding Optional, Openness, Flexibility
When it comes to web development tools, the true test of value comes down to whether the tool can offer completeness and speed of development, while at the same time providing the developer with absolute confidence that he or she can solve any problem thrown at them. And, for most software developers, an application's time-to-market is a critical factor in winning the job or blowing away their colleagues and their boss.

Customer feedback that Alpha receives virtually every day, tells us Alpha Five v11 stands apart from other web development tools through the coupling of its unique and highly productive, rich component approach, refined through years of development and testing, with the ability for developers to code any specific solution that cannot be handled by the components. A stunning example of this approach can be found in what Alpha calls "Codeless AJAX"—which lets developers create fast, robust, visually rich desktop-like solutions for the web (and soon mobile) with no coding required. It all just works.

Recently, we received an email from a developer—who was tasked with developing in just 2 weeks a front-end to a back-end SQL Server database application, with Ajax-performance. He was asking for clarification about what Codeless Ajax means?

In his response below, Alpha Software developer Jerry Brightbill shows how Alpha Five v11 incorporates Ajax. Jerry provides a detailed overview of the tremendous freedom, confidence and rewards that Alpha - an AJAX powered component based software development tool - can bring to developers who are focused on getting the job (however big or small, simple or complex) done.

Alpha Five v11's Web Development Tools: Code What You Want To and Let Alpha Take Care of the Rest
by Jerry Brightbill

All Alpha Five v11 components are Ajax enabled and use Ajax techniques for all requests after an initial page load. A common design is to use a tabbed layout we call a Tabbed UI. The Tabbed UI creates a single page which can be the only actual page loaded. Buttons or other objects such as a tree control can then open other components in individual tabs using Ajax. The below videos show how it's done using a tree control for navigation.



Note that there is no coding involved as the builders generate all of the HTML, JavaScript, and related code. The components opened by the Tabbed UI also are all Ajax- enabled and can be built without any coding in other builders.



All Alpha Five v11 components include connectivity to most common SQL back-end databases including SQL Server. We have done extensive testing with SQL Server and have a variety of production systems running it. We make a direct connection to the database with what we call AlphaDAO, which uses a proprietary syntax called "portable SQL". This is similar to the native SQL Server language but can connect to any supported SQL system without changing any code. The system also works with native T-SQL. We support stored procedures and most other methods to manage data.

Unconstrained Development
With Alpha Five v11's web development tools, it is entirely possible to build a sophisticated application without any coding, using the builders. But, the system does not restrict a user to the built in methods. The builder provide a rich foundation on which an experienced developer can extend the capabilities as desired.

The builders have built in code for all CRUD operations so that a developer doesn't have to write any code. However, there are many special features to allow a developer to use their own processes and coding if they wish to extend the capabilities of the data operations.

The components themselves have many "hooks" and options to allow a user to add their own JavaScript if desired for special operations. Our built in Ajax library includes many JavaScript methods such as built in message boxes, methods to format and manipulate data, as well as exposed method to manipulate the actual components with exposed JavaScript.

In Alpha Five V11, you can hand code pages, but there is no reason to do so. We even include a component called a page layout that can be used to organize multiple components on a single page.

Some developers may have a specific custom page layout they wish to use and then insert components into that layout in the appropriate locations. While we include a basic HTML editor for pages, many developers who wish to use a special page design will use a different editor such as Dreamweaver to build a HTML template and then insert Alpha components into the page. In that instance, the only coding may be the basic HTML page design.

Developing with a Component Architecture in the Mobile-Plus Era
To see a preliminary view of a new demo application that will be included in the upcoming release of Alpha, here are a couple of links to videos: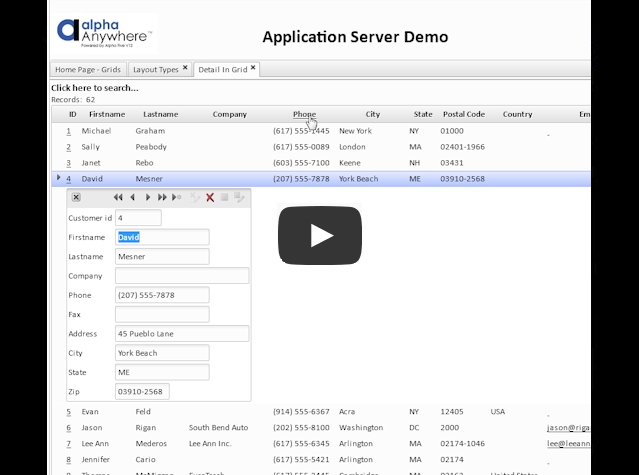 The pages are built using the tabbed UI components and all components shown were built in the various component builders. There is very little custom coding involved and the sample shows just a limited view of various capabilities.