Citizen developers are business analysts or other business users who use low-code, no-code, or drag and drop software to build business apps.
There's been much written about "citizen developers." business users who are not professional developers and have no formal training in how to create applications using development tools. Yet they write powerful applications that can help digitally transform businesses of all sizes.
What are citizen developers?
Who are these citizen developers and where do they work in the organization? They're not software developers. They're often line of business experts, business analysts or other users who create apps. But it's not especially clear where do they work in a business and what they do.
Definition of a citizen developer

Gartner provides the most succinct business developer definition. "A citizen developer is an employee who creates application capabilities for consumption by themselves or others, using tools that are not actively forbidden by IT or business units. A citizen developer is a persona, not a title or targeted role. They report to a business unit or function other than IT."

Where do these new developers work?
That means a citizen developer can work anywhere in an enterprise, in any department, performing any function. A Forbes magazine article, "The Pros And Cons Of Citizen Development," defines a citizen developer not by job title, but what he or she actually does on the job. The article explains that citizen developers develop business applications using easy-to-use development platforms, code platforms, or code tools. The article puts it this way: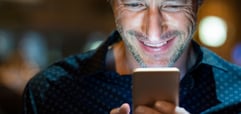 "The citizen developer is able to use drag-and-drop application components, connect them together in order to generate a new unique web or mobile application. This low-code/no-code software empowers employees to design and build powerful applications which can grow and adapt according to the needs of a business."
This Approach to App Development is Increasing
Data shows that these new types of developers are becoming more prevalent in organizations. A new Gartner survey found that "Half of business technologists produce capabilities for users beyond their own department and/or enterprise" Gartner's finding shows the business technologies are now using low-code/no-code software or drag and drop tools to create business apps. These developers are taking on IT's traditional role using innovative software.
Profile of a Citizen Developer
The University of Alabama at Birmingham Information Systems Program conducted extensive research on citizen developers. They found that 80% of leading companies (pacesetters) use non-IT developers. They profiled citizen developers as being:
between the ages of 18 - 29.
face to face communicators (vs. email or phone).
focused on projects that serve 5-25 users
produce applications for consumption by other business users.
tasked with fulfilling a niche need for the business.
Citizen developers typically help digitally transform companies by writing applications that streamline business processes. They're closer to those processes and understand them better than IT. They don't need to write complex code and so use low-code/no-code tools to build applications. In that way, they amplify the power of IT and help free IT for higher-level development needs.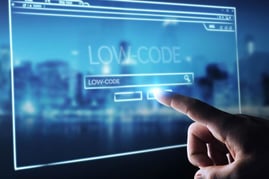 The Forbes article explains: "low-code/no-code platforms have been found to help foster greater collaboration between internal departments. It's not only a way for IT to self-service its apps. It's also a way to bring the business side into the development so that the final outcome is exactly appropriate to the specific requirements of an organization.
What Software do Citizen Developers Use?
Using low-code/no-code software, citizen developers can build apps much faster because it is a visual process using pre-built modules.
In fact, Forrester claims that they have the potential to make software development as much as 10-times faster than traditional methods. As a result, the time spent on app testing and development is significantly reduced. It also allows the organization to be more flexible in its approach to IT. Consequently, productivity levels will take a sharp upturn."
Read more about the benefits of low-code software.
There are a variety of low-code/no-code tools that citizen developers typically turn to. These include including Microsoft Power Apps and AppyPie.
A particularly powerful solution is Alpha TranForm no-code software. This app builder with free app templates helps citizen developers craft mobile apps in minutes that utilize the latest mobile features (camera, GPS, etc.) for fast, accurate data collection. Learn more about Alpha TransForm and try it free for 30 days.

Alpha Anywhere is a powerful low-code solution for developers looking to increase their productivity. Developers can build apps for free using with the software.
Read how citizen developers are beginning to leverage AI and Machine Learning into their application development.