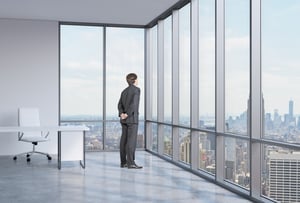 If you want to know where the business world is headed, there's one place to look: at IT departments. They put strategies in place to help companies chart their courses in a fast-changing business world, and invest in technologies to help navigate it in the future. So it's worthwhile looking at Salesforce's second annual State of IT report, which surveyed more than 2,200 IT leaders worldwide, to see what IT really cares about, and where they're investing for tomorrow.
One big takeway: IT recognizes it needs to dramatically speed up development and has targeted low-code development tools as a way to do that. It found that "Nearly nine out of 10 IT leaders (88%) are already using or plan to use low-code solutions over the next 12–18 months. IT leaders agree that low-code development will help not only with speed but also productivity, allowing tech staff to concentrate on more strategic initiatives and innovations."
The low-code tools are not just for tech staff, but also for business users, so-called citizen developers, as well. The report notes, "IT leaders are looking to citizen developers as a way to increase staff productivity and improve development speed."
The report also found that IT recognizes that it is not an island and must work cooperatively with business units.
It reports that "Sixty-seven percent of IT teams say improving their collaboration with other lines of business is a high priority." It concludes: "In the customer-driven era, IT can no longer function separately from business strategy and execution. IT has become the central nervous system driving business success, playing a key role in how business units leverage customer data and streamline cross-departmental processes (e.g., service teams upselling, sales and marketing collaborating, etc.)."
As for which technologies that IT says are most likely to transform businesses, the report found "The top three technologies expected to have the most transformational business impact by 2020 are cloud computing, artificial intelligence (AI), and mobile technologies for customers." Cloud computing was ranked at number 1, artificial intelligence at number two, and mobile at number three.
Overall, the report says, there's a widespread recognition that IT needs to focus on innovation instead of just "keeping the lights on." It found that "Sixty five percent of IT leaders say innovation for competitive differentiation is a critical or high priority."
Choosing the Right Tool for IT and Digital Transformation
IT needs the right tools to deliver the future enterprises envision — and to speed up digital transformation. That's where Alpha Anywhere and its new TransForm technology comes in. It's the best tool for speeding up enterprise digital transformation. It offers tools that lets existing staff build business apps much more quickly and effectively and enables savvy business domain experts and IT departments to work together to digitize business processes and deliver tangible business impact. It also simultaneously enables IT to control data integration with systems of record, and data security compliance.
For practical advice on how to get IT and business users working together at your organization, download our comprehensive guide: "Citizen Developers: The Democratization of Web and Mobile App Development."
Learn how Alpha Software technology for IT AND business users can help you speed your digital transformation.
Further reading: