I've frequently written about the impact of remote work due to COVID-19, including improved developer productivity. But that only scratches the surface of the benefits, says CEO Larry Fink and CFO Gary Shedlin, of the financial firm BlackRock.
What they say carries weight, because BlackRock is the world's largest asset manager.
In an earnings call in mid-October, Shedlin said "I think the biggest lesson learned obviously was that we were able to very quickly migrate from 16,000 people in 60 offices to 16,000 people and 16,000 offices…I think that we have seen frankly an acceleration in almost every single strategic trend that we were guiding the business towards pre-pandemic, post-pandemic."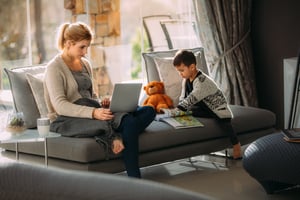 Fink went even further than Shedlin. He said, "I would just add, more of a social way, there are many blessings that we're learning from the horrificness of the pandemic and the health concerns. I don't think any of us thought we could operate as efficiently remotely… By and large, many large companies including BlackRock, have learned, yes, we can work remotely without much in terms of degradation of operational efficiencies."
Shedlin said he believes that all work from now on will be at least in part remote. And that, he says, will be a good thing for businesses, the economy, families and the environment.
He surmised, "If we could rotate 30%, 40% of our workforce so they can work remotely at periods of time during the year, can you imagine how each city will have reduced congestion? Think about what that would do in the environment. Think about it, if the average employee commutes on average an hour each way, that we free up for a portion of the year two hours of their day."
He added, "They spend that two hours to do more work. They could spend two hours improving their health by exercising. They could spend two hours more in building a deeper, stronger, more resilient family. And so there are many blessings through this, and I think we're all going to be adapting and doing this. And I do believe society will be better off through these processes."
He concluded: "I think one of the great adaptations that we're going to learn from the horrificness of COVID is working remotely, but having still some core part of your enterprise working in office. And I think this is going to be a real positive lesson. And it will create another dynamism for all our economies. And so I look at this as a great learning experience. We're benefiting from this, and our clients can benefit from this also."
How to Make Sure Your Workforce Becomes More Productive at Home
Mobile apps can ensure that your workers are even more productive at home than they were in the office. To understand why, read my blog post, "Remote Work And COVID-19: How Mobile Apps Can Help." Alpha Software also offers a range of solutions to help companies conduct remote work and open offices and schools safely during the pandemic.
To quickly write the most effective mobile apps with remote teams, you need the best platform. Alpha Anywhere can take those apps further or build more complex apps from scratch, with advanced integration with any database or web service, advanced offline functionality built-in role-based security or more advanced offline functionality. Learn more and try building your own apps for free.
Get employees screened for COVID-19 and back to work with the AlphaMED Workplace Wellness App.