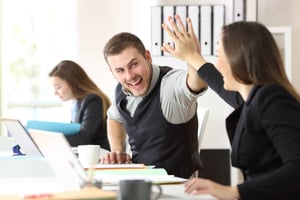 Want to make sure the mobile app you're building will be effective, useful and developed in the most efficient way possible? An article in Customerthink offers five tips for improving the way you design and develop mobile apps.
For a start, the article says, concentrate on user experience and engagement. It notes: "User experience and engagement are major determinants of mobile app's success or failure. A mobile app's value is not dependent on its features; rather, it's dependent on the quality of its user experience. Several factors affect user experience such as slow connectivity, poor UI, bad app execution, among others."
Next, make sure to leverage cloud technology and boost security. Cloud technologies, the article notes, offer myriad benefits, including flexibility, cost-effectiveness, standardization and agility. In addition, they make the on-boarding process for developers simpler, "a win-win for app developers."
As for boosting security, app developers need to pay attention to "unprotected data storage, data leakages, weak controls" among other issues. The article warns, "Understanding the type of user and data protection techniques utilized by service providers is the first step in tackling security issues. If the security of your mobile app isn't good enough, the failure of the app is imminent – because users will not continue making use of an app that often has data leakages."
Third, enhance your marketing strategy. There's a simple reason for this: The success of your app depends to a great degree on the quality of your marketing strategy.
The fourth tip is to focus on the mobile app's performance. The reasons are fairly self-evident. Customers – and your own employees – won't use an app that is too slow or frequently crashes.
Finally, you need to pay attention to platform development. The article warns "Developing mobile apps is much more complicated than developing websites." The article mainly discusses whether to develop for iOS, Android or both. But there's another platform you need to consider when developing mobile apps – your development platform. You need one that makes it easy for both professional developers as well as business experts to write mobile apps, and that can write apps that work across all platforms.
The Best Platform for Writing Mobile Apps
To build the best mobile apps, you need the best mobile platform. Alpha TransForm (for non-developers) and Alpha Anywhere (for developers) - both part of the same development platform, but suited for different user types -- are ideal for the task. Alpha TransForm and Alpha Anywhere can work independently or together as a single platform and are well-suited for building all kinds of mobile apps. Alpha TransForm helps business users craft online or offline mobile apps in minutes that utilize the latest mobile features (camera, GPS, etc.) for fast, accurate data capture. Alpha Anywhere has the unique ability to rapidly create mobile-optimized forms and field apps that can easily access and integrate with any database or web service and can exploit built-in role-based security or robust offline functionality. Learn more about Alpha TransForm and try it free for 30 days.