Its all about data quality.

The finest workflow and analysis systems are useless unless the data that fuels them has been collected in an accurate, timely and complete way. Good medical decisions (like many other decisions) are all predicated on:
1) having good data that is rich (includes audio, images with annotations, drawings, gps locations etc) and is complete,
2) getting the data as soon as possible so that timely action, if need be, can be taken
3) having the data in machine readable form so that it can be readily shared and analyzed with authorized parties
Think about the error prone and cumbersome paper forms, (that are limited to only collecting text and numbers,) currently used in healthcare, where once
the information has been written down, it still needs to manually be re-entered into some computer system at a later date.
Now imagine digitizing these forms -- turning them into an intelligent smartphone app collecting complete data, faster and more accurately.
Today, we showcase another Alpha TransForm app example built for visiting nurses that meets all three of the objectives mentioned above.
We begin with a standard paper form used by visiting nurses today and turn it into a mobile data collection solution built in
20 minutes by a medical professional who has no coding skills.
(Note an equivalent smartphone app using low-code or traditional app building approaches could easily
take weeks to build and would require someone with coding skills to build the app.)
This video walkthrough of the app shows how the app:
uses timers to measure things like heart rates
has conditional fields to determine drug side effects to watch out for- based on the drugs that the patient is taking
records patient's sounds (breathing/talking/coughing)
confirms gps location to validate that the visit actually took place
allows the nurse to take pictures and annotate and markup areas that need evaluation
ensures equipment can be tracked and
much more.
Below are some slides that walk through the form visually: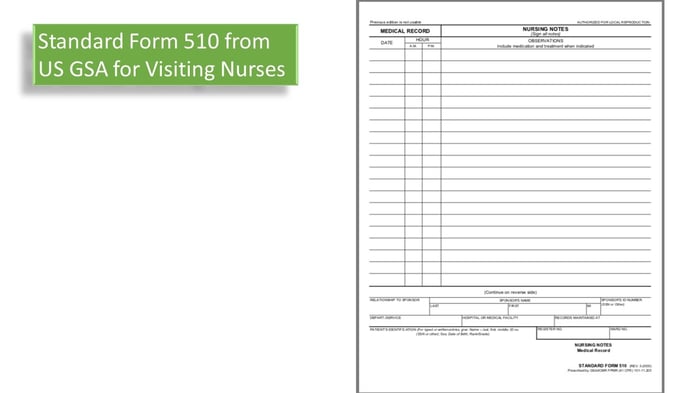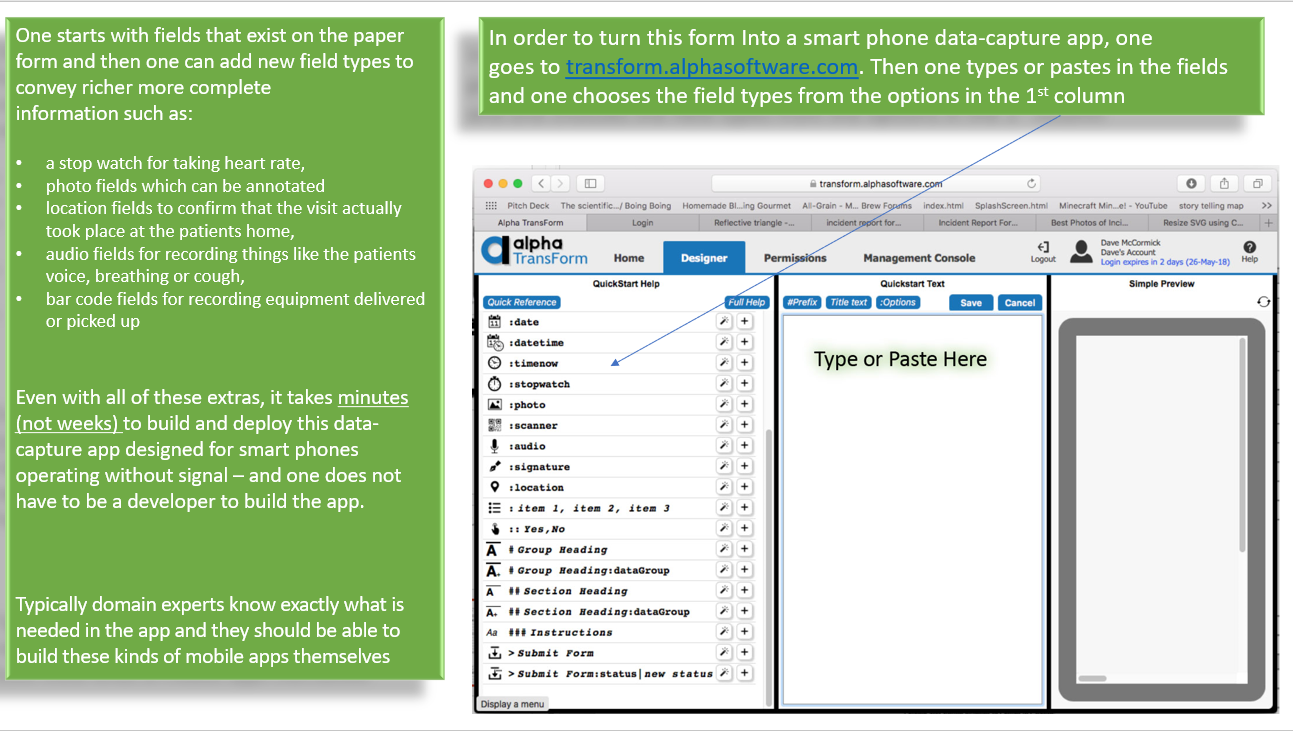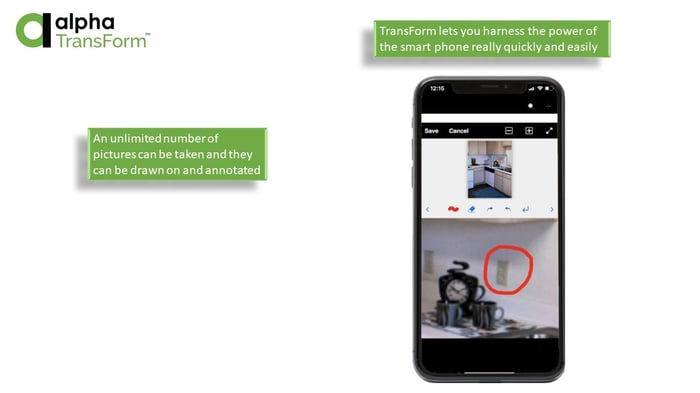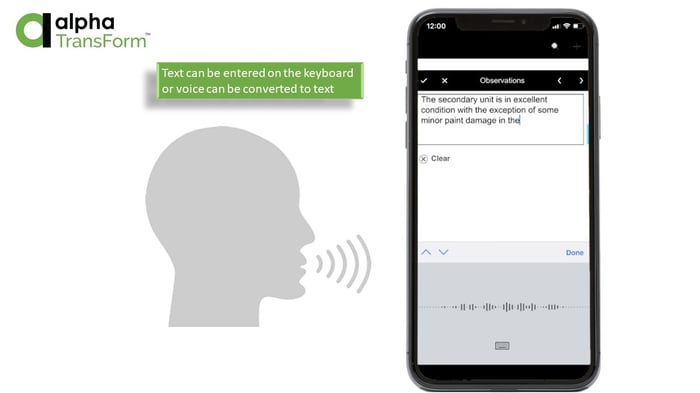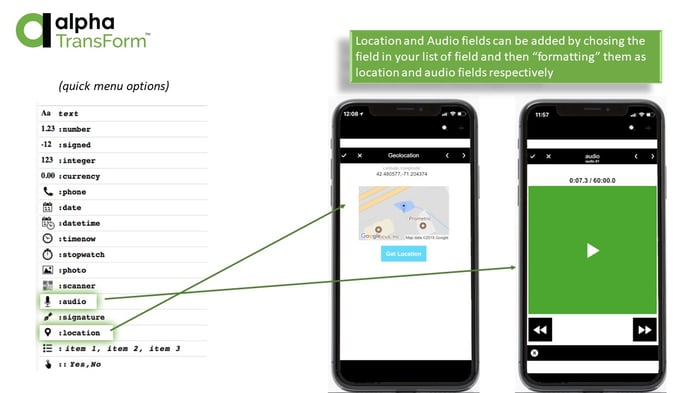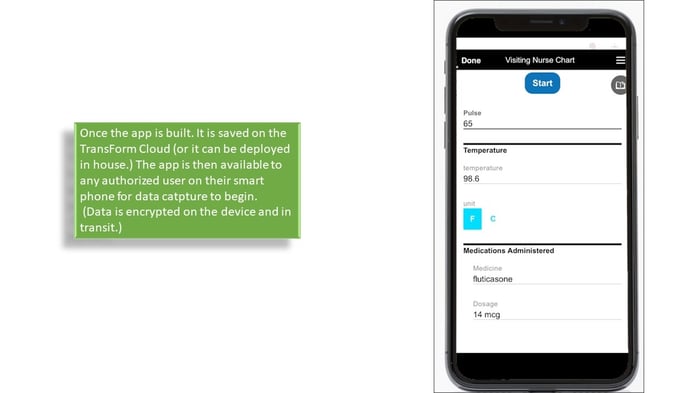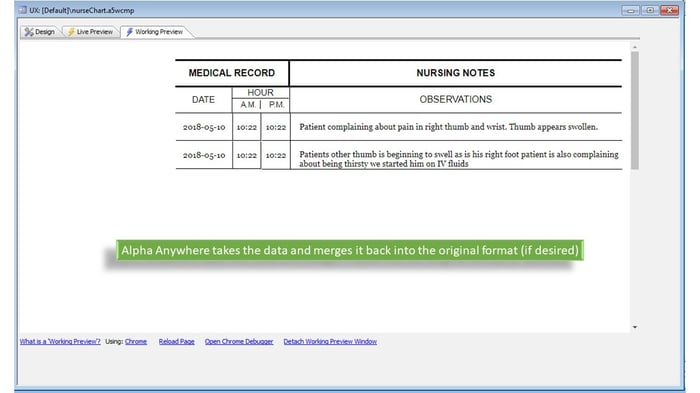 Alpha Software and its new TransForm platform enables business domain experts (a.k.a., citizen developers) and IT departments to work together to quickly and effectively digitize business processes and deliver tangible business impact.
TransForm is the only platform that lets line-of-business workers with domain expertise build secure offline enterprise-grade mobile data capture apps in minutes versus the weeks that it would normally take developers to build the same apps.
At the same time IT is able to work with the TransForm API to maintain control of security, governance and and data integration with systems of record.
TransForm is built in Alpha Anywhere and is designed to tightly integrate with it or act as very rapid front sophisticated mobile form builder that can interface with any
development environment. Check out our 90-second video about TransForm, and get more details about TransForm here.
If you would like to explore how Alpha TransForm could help your organization empower citizen developers, contact
mike.gongwer@alphasoftware.com
.