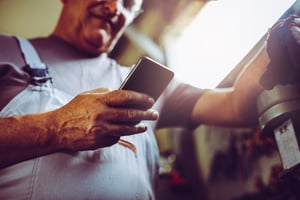 The manufacturing industry is bedeviled by a little-publicized problem — extremely low levels of employee engagement. You may think this isn't a serious problem, aside from having bored employees. But in fact, it has major implications for manufacturing firms, ranging from lower productivity to high rates of accidents.
But it needn't be that way. Mobile apps can dramatically increase employee engagement, which increases productivity and improves safety. So writes Bulent Osman, Founder and CEO of StaffConnect, in a Forbes blog post, Reversing Low Employee Engagement In Manufacturing. Following is a brief summary of what he has to say — and his advice for how to use mobile apps to increase engagement.
The post cites a 2017 Gallup report "State of the American Workplace," which found that that manufacturing workers are the least engaged of all American workers, with 75 percent of them feeling disengaged from their jobs. The blog notes, "Several reasons help explain this, from cost-control pressures to troubles attracting and retaining skilled workers due to a talent shortage. "
How much of a problem is that for manufacturing companies? The blog notes that "Companies with engaged employees outperform those without them by a whopping 202%." It goes on to say, "Gallup found that when business units had higher engagement they not only outperformed less engaged units but additionally experienced a decrease in absenteeism and turnover — factors that are particularly common in manufacturing."
Another problem with low employee engagement, particularly relevant to manufacturing, is safety. The blog points to a Gallup report that found that "firms with higher engagement levels reported 70% fewer safety-related incidents."
Osman says a simple solution is at hand — mobile apps. He explains, "With a mobile engagement app that's specifically designed for the enterprise, not just for chatting, manufacturing organizations can strategically improve engagement of all workers and give on-site workers and non-desk employees (NDEs) more effective tech tools and resources to have a voice and remain engaged in the organization."
Such apps, he says, should allow for information-sharing, and have community-oriented capabilities, and ways to measure employee engagement. The result, he says, will benefit the entire enterprise, not just workers on the manufacturing floor: "When the entire workforce is empowered to collaborate with their managers and peers, businesses can at long last reach down into the heart of engagement to increase employee and customer satisfaction, brand loyalty and shareholder value."
The Best Way to Build Manufacturing Apps to Increase Employee Engagement
Alpha TransForm (for non-developers) and Alpha Anywhere (for developers) can work independently or together as a single platform, and are ideally suited for anyone who needs to learn how to build a mobile app to increase employee engagement at manufacturing companies. Alpha TransForm helps business to build an app without code in minutes that utilize the latest mobile features (camera, GPS, etc.) for fast, accurate offline data collection. Alpha Anywhere has the unique ability to rapidly create mobile-optimized forms and field apps that can easily access and integrate with any database or web service and can exploit built-in role-based security or robust offline functionality. Learn more about Alpha TransForm and try it free for 30 days. Read more about quality control, quality assurance, and our quality management software.
Further reading: