Forrester Research released a new mobile low code app development wave and named Alpha Software a key vendor in the segment.
But first, what is the Forrester Wave and Why is it important?
Sometimes it takes an expert to distill a new piece of technology and to help consumers make better choices. And this is no less true in the realm of low code development as it is across the rest of the tech spectrum. However, while a bad personal decision may leave you with a subpar phone or device for a limited period of time, picking the wrong low code app development platform can have far reaching implications that can affect the growth of your department or company for years to come.

To help companies make sense of the marketplace, Forrester Research, a widely respected voice in helping business and technology leaders make better decisions with the tech that they rely upon each day, developed the Forrester Wave. Its objective is to help businesses make sense of their many vendor options, including in the important market of low code development platforms and other tools.

Launched in the early 2000s, the Forrester Wave provides an at-a-glance look at entire industries and offerings that can make a tangible impact on the future trajectory of an organization or business. With transparent criteria and graphics that make the complex easy to digest and understand across a multitude of verticals and industries, the Forrester Wave report on low code platforms is an indispensable asset for those that want to cautiously make a decision without significantly extending the timeline thereof.

Browsing Forrester Wave graphics is relatively straightforward, and is often all that's needed in spite of the comprehensive information also available within the report. There are four sections in the Forrester Wave low code report (as in all others), which is comprised of Challengers, Contenders, Strong Performers and Leaders. By looking at the graphic, leaders can understand where a given provider stands today, as well as where they're likely to stand down the line.

To make the decision-making process easier, the Forrester Wave report for low code platforms only includes top performers in low code development, meaning that picking any one of the providers in the report is generally a wise decision. But in addition to their inclusion in the report, you'll also be able to see how each stacks up against the competition with a true, apples to apples comparison of features, capabilities and ease of use, among other criteria.
For those in the decision making seat, the Forrester Wave report on low code is an indispensable tool. You'll find Alpha Software represented, and you can even try our fantastic low code software for free via our convenient and powerful community edition! We also provide additional reading materials if you're still trying to choose a low code platform. Get started today with Alpha Software!
David Ramel of ADTMag wrote an article this week discussing the rise of low code development and results from the new Forrester Mobile Low Code Development Platforms Wave. In this article, "Analysts Sort Out Low-Code Mobile Development Platforms," Ramel discusses the struggle enterprises are facing trying to find and hire trained mobile coders (read: shortage of app developers). He writes:
In the age of enterprise mobility and mobile-first initiatives, the factors that contributed to the rise of general low-code dev platforms -- the aforementioned supply-and-demand pressures -- are magnified in the mobile space.

Experienced and trained mobile coders are so hard to find and are thus commanding such high salaries that the position of mobile app developer was recently named the "best job in America" by mainstream publication CNNMoney.

He states that this pressure has made low-code development platforms a must-have requirement for many enterprises. He then takes a deep-dive into the new "The Forrester Wave: Mobile Low-Code Development Platforms, Q1 2017."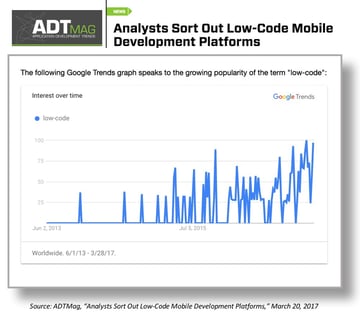 ADTMag's David Ramel discusses the rise of low-code developent as an enterprise priority and analyzes the 2017 Forrester Mobile Low Code Development Platforms Wave.


Ramel compared the "The Forrester Wave: Mobile Low-Code Development Platforms, Q1 2017" to the 2016 Forrester Wave report, and had interesting findings. The steep competition has led to the field dropping from 14 to 11 vendors in the past year, four vendors dropping off the from vendors appearing on the "The Forrester Wave: Mobile Low-Code Development Platforms, Q1 2017" dropped from 14 to 11. AgilePoint, Bizagi, Caspio, MatSoft, MicroPact, MIOsoft, Nintex, Quickbase, ServiceNowMatSoft were dropped from this report in 2017. New performers Alpha Software, Capriza iExceed, Kony, Magic Software and Oracle appear on the Wave for the first time 2017. Of those new vendors, Alpha Software is noted to have the largest market presence.

Read the full ADTMag article.

Read why Forrester, Gartner and other analyst firms rate Alpha Anywhere so highly.