Rapid Mobile App Development Will Empower Citizen Developers to Quickly Build Sophisticated Business Apps While Allowing IT to Maintain Some Control

Creation of mobile and web business apps by citizen developers using rapid mobile app development products is exploding. Forrester Research projects the market for such citizen developer rapid mobile app development tools (a.k.a., mobile no code/low-code platforms) to be some $3 billion by 2020. Similarly, Gartner predicts that by 2018, more than half of all business apps will be created by citizen developers using rapid mobile app development tools.

While coding will always have high value for enterprises, to remain competitive, companies must move to agile development techniques to speed the mobilization of business processes, and respond to customer, partner and field organization demands in a mobile world. Rapid mobile app development platforms allow non-technical users, at the technical level of an Excel or PowerPoint user, to create sophisticated mobile and web apps for a fraction of time and cost of traditional native development or coding-intensive mobile app development platforms (MADP). The best rapid mobile app development tools:

Are Citizen Developers the Future of Mobile?" and in the Alpha Software white paper, "The Democratization of Mobile and Web App Development."

Some examples of Rapid Mobile App Development Apps Created by Citizen Developers

Below are two examples of business apps built by citizen developers using rapid mobile app development products:



A Look at Rapid Mobile App Development Products by Gartner

In a past blog, we highlighted key points from Gartner's Market Guide for Rapid Mobile App Development Tools. The report seeks to help enterprise buyers and decision-makers understand the key considerations when evaluating rapid mobile app development products and the differences between some of the leaders in the market. In the report, Gartner analysts introduce rapid mobile app development as a new approach that can help a wider range of business users develop mobile apps:

"Mobile app development is not just for coders and programmers. The growth of the RMAD market shows the pent-up demand for 'coding-optional' tools to build apps quickly and cost-effectively. Application development leaders should use this research to select tools that offer immediate business value."
Gartner analysts further explain,

"Rapid mobile app development (RMAD) capabilities can range from creating simple, stand-alone mobile-only apps to sophisticated transactional apps with integration to enterprise data and workflows."
The report offers comprehensive analysis of the rapid mobile app development market, including comparisons of product capabilities and functionality for vendors in the RMAD market. In the analysis, Alpha Anywhere emerges as one of the most robust products evaluated; it is one of only a few vendors that meet ALL of Gartner's criteria of popular app features in a rapid mobile app development tool: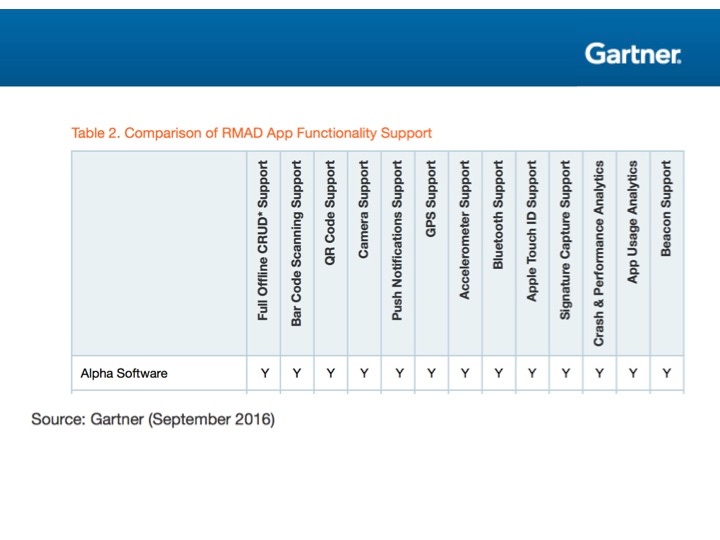 Source: Gartner Market Guide for Rapid Mobile App Development Tools (2016)


In reviewing Alpha Software for this report, Gartner analysts give Alpha Anywhere credit for:

Gartner.com by readers. Gartner Research Director Jason Wong, a co-author of the report, explained that readership of the report is on par with that of the Mobile Application Development Platforms (MADP) Magic Quadrant, in which Alpha Anywhere was recognized for enterprise integration and rich client-side workflow.Due to heavy client interest in RMAD market trends and vendors, Gartner plans many more reports in 2016 and 2017.

We're very pleased that report co-author Jason Wong will be attending this year's Alpha DevCon in Danvers, MA. For more information on Alpha DevCon 2016, click here.

Gartner clients can download the full Market Guide for Rapid Mobile Application Development Tools report here.

To read more details about why Alpha Anywhere stands out in the market as an RMAD platform, click here.

To read the full Gartner Market Guide to Rapid Mobile App Development (published in 2016), click here. To compare how Gartner viewed the Rapid Mobile App Development market as it initially emerged and what's changed since then, click here.

To learn more about what Rapid Mobile App Development without limits can deliver to your team, click here.

Read Mobile Advertising Watch's recent story: "Alpha Software Delivers Offline Capable Rapid Mobile App Development and Deployment with No Limits to the Enterprise.