Start Developing Your App for FREE!
Begin developing your Web and Mobile Apps today with the best low code platform.
When it comes to low code mobile app development platform cost, the last thing you need to worry about with your app builder is being nickel-and-dimed to death with every user, every scintilla of bandwidth and every file. You need to be able to work freely and without worry so that you can focus on everything but your low code mobile app development cost. Otherwise, you'll always have one eye on something that isn't your main goal, which is bringing your organization forward in as many ways as possible.
That's why Alpha Software has broken down our low code mobile app development cost into categories that are easy to follow, easy to understand and, if necessary, easy to adjust so that you won't have to sit and watch while the proverbial till runs. We are so unconcerned about that aspect of things that we'll even let you get started for free, as you'll see below in our breakdown. Low code software cost is an investment, and should never be an annoying line item that you're constantly trying to minimize or eliminate altogether.
We encourage you to get started for free, as we're sure that this is going to allow you to obtain a degree of familiarity that will tell you where you fit on the pricing breakdown below. If you're still unsure of what level of low code mobile app development cost is right for your organization, feel free to contact us at any time and we'll walk you through whatever thoughts or questions you have.
---
Publish Your Application with Alpha Cloud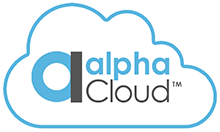 Alpha Cloud can be purchased for as little as $99/mo
Security, Scalability and Business Continuity
Load balancing, scaling, fail-over, roll-back, roll-forward,
and multiple deployments all happen seamlessly