Among the best productivity tools for manufacturing are a Gemba Walk app, a 5S Audit app, a non-conformance report app, and an equipment inspection app. Learn how to get free access to these tools.
These days, new technologies like IoT, big data analytics, and smart factories are the keys to manufacturing success. But to benefit from these technologies, you need great hands-on tools and apps.
Valuable Productivity Tools for Manufacturing Leaders
We've identified 4 manufacturing
productivity apps
that will make your data collection faster and more accurate.
We've included links where you can
access each productivity
tool for free.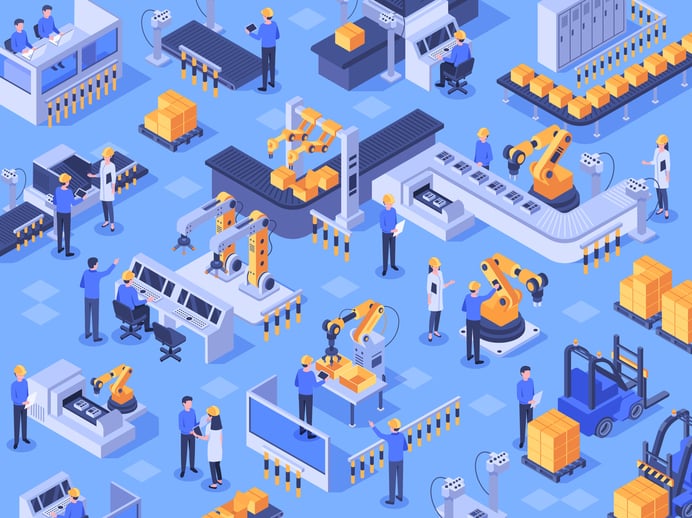 We've got four free ones that we've built, and that our manufacturing clients love. Of course, nothing compares to having your own custom-built application, catered explicitly to your technology stack, infrastructure, and manufacturing needs. That's what Alpha Software is for, as you'll find out later in this article.
First, though, here are four great free apps to increase any manufacturing company's productivity.
Productivity Tool # 1: Gemba Walk
A Gemba Walk is a Japanese term for a management technique that is part of lean and Six Sigma practices. It means walking through your business and factory floor, seeing how your company operates, how manufacturing processes are done and talking in detail with the people and team members who are doing your work.
People often off it as management by walking around.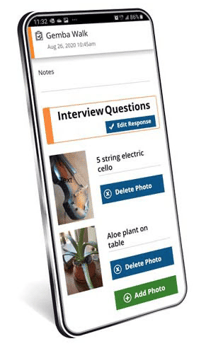 Businesses whose leaders regularly do Gemba Walks find they lead to continuous improvement and aid in lean manufacturing. They're a powerful tool for understanding how your manufacturing plan and processes actually operate -- not how you think they operate. And once you know that, you can make constant improvements towards perfecting them.
Alpha's free Gemba Walk app is a fully functional lean manufacturing app template that collects photos, notes, location data, interview questions, and more during a walk through the manufacturing floor, workplace, warehouse or field.
Digitizing the Gemba Walk process dramatically speeds up the time it takes to conduct a walk by helping managers record their observations faster. In addition, mobile phones allow managers to collect new types of data, like photos, audio interviews, time/date/location stamps, and employee signatures. Faster, more accurate data collection is critical to improving manufacturing processes.
Get more details and download the free Gemba Walk app here.
Productivity Tool # 2 - 5S Audit App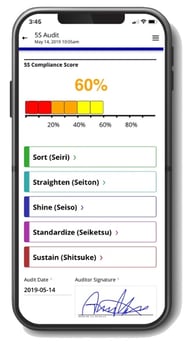 5S implementation provides an excellent way to make continuous improvements in the manufacturing process. organization. While traditionally done one paper, 5S audits can streamline improvements, capture more accurate data, include more detailed images and explanations and streamline improvements in way paper 5S audit checklists cannot.
Lean manufacturing involves the use of many tools to improve operational efficiency. Examples include 5S, kaizen, gemba, kanban, heijunka, and poka-yoke. While lean is often thought of as a manufacturing practice, many lessons can be applied to any business to improve results. Take for example, the practice of 5S, a foundational part of lean manufacturing because it focuses on a clean organized workspace.
5S Principles - which often takes the shape of a "5S Audit" -- assess workspaces to ensure maximum efficiency, worker safety, and unnecessary waste. An organized facility increases the likelihood that production will run smoothly. This 5S system, which began as a manufacturing method used by Toyota, focuses on putting everything in its proper place and keeping workspaces clean. The term "5S" comes from five Japanese words that represent a 5-step process for organizing spaces so work can be performed efficiently, effectively and safely.
Get more details and download the free 5S Audit app here.
Productivity Tool # 3 - Non-Conformance Report App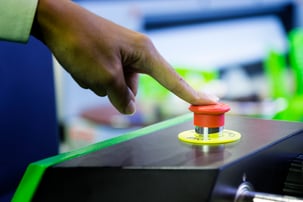 Manufacturing companies often use Non-Conformance Reports (NCRs) as part of quality efforts. NCRs are used to identify products, parts, or work jobs with defects that do not conform to required specifications. NCRs are critical to maintaining high quality of workmanship, safety standards, and vendor reliability.
An NCR documents the details of why a part or job failed to meet quality standards, details what is needed to fix the problem, and determines a resolution or remediation. Having a strict quality process with detailed NCR reports that can be tracked and reported, allows manufacturers to see if production is improving or decreasing and realize key trends or repeated problems with production.
Use our free NCR app to report NCR detailed observations. The app collects time and date stamps, photos with mark-ups, records audio, captures digital signatures, and more. Tie this app into your systems of record to immediately initiate corrective actions or process change.
Get more details and download the free NCR app here.
Productivity Tool #4 - Equipment Inspection App

Having equipment run properly is vital to the running of any factory and manufacturing floor. But knowing that is one thing, and doing it is another. Inspectors often work in harsh and demanding circumstances, and it can be tough to record all their findings.
Our free equipment inspection app makes evaluating and inspecting manufacturing equipment fast and easy for inspectors. Optimized for one-handed data entry, the app can look-up equipment model information, capture torque or other measurements, and perform calculations with a click. The app also automatically records location and time data, and offers one-tap pass/fall buttons. Once the inspection is complete, inspectors can sign-off on the form and submit it directly into the company's system(s) of record -- all from their smartphone.
Get more details and download the free equipment inspection app here.
Build Your Own Manufacturing Productivity Tools in Minutes, Without Limits
Alpha Software builds inspection apps, equipment maintenance apps, non-conformance apps, and safety apps to capture and deliver critical production floor and warehouse data anytime, anywhere. Alpha Software solutions make manufacturing employees more productive and provide faster data insights.
Book a meeting with us today to learn how to drive productivity and streamline business activities with custom business apps that connect to your existing systems, processes, and data investments.

Learn more about the manufacturing productivity tools above.