It's now been more than half a year since the pandemic has transformed society and the work world. It's now clear that enterprises and smaller businesses will never return to the way they used to work. And neither will IT. Remote work strategy has become a necessity for business.
What has IT learned from the pandemic? And how will those lessons affect the rest of the business?
CIO's "2020 Pandemic Business Impact Survey" offers some very telling findings about the future of remote work and of digital transformation.
Among the most important findings are revelations about the future of remote work. Seventy percent of IT decision makers agreed that the shift to working from home "has created a more positive view of remote workplace policies and will likely impact how we plan for office space, tech staffing and overall staffing in the future."
What percentage of employees will be working from home in the future?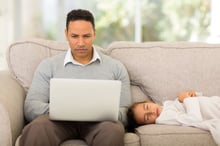 The remote work data also found that 51 percent of people in organizations are "working from home now and will be for the foreseeable future." And that's not a short-term shift. IT decision makers said that 41 percent of staff "will still be working remotely by January 2021."
---
41% of workers will still be doing remote work from home in January 2021, up from 19% before the pandemic.
---
That's a dramatic shift. The survey found that only 19 percent of staff were working remotely on a permanent basis before the pandemic hit.
How has the pandemic transformed IT strategy?
This shift, IT decision makers agree, has been helping transform the business in a positive way. Fifty nine percent say that the effects of the pandemic are accelerating their digital transformation efforts. And fifty four percent say that the shift to working from home has forced their companies to digitize and automate existing workflows.
The pandemic is transforming IT strategy and IT budgets as well. Fifty four percent of IT decision makers say they are "adding new technology projects to create a competitive advantage given shifts in our industry due to the pandemic."
Will remote work affect IT budgets?
Surprisingly, given the negative economic effects of COVID-19 on many businesses, IT decision makers say their budgets will either increase or stay the same – a full 76 percent of them.
---
76% of IT decision makers say IT budgets will increase or stay the same.
---
The rebound in IT budgets doesn't affect small businesses and enterprises equally. Some 84 percent of small and medium-sized businesses say their IT budgets will increase or stay the same, while only 68 percent of enterprises say that.
What technology investments are IT departments making to support remote work?
What tech investments do IT leaders say will turn their companies into digital businesses? The most popular investment, cited by 38 percent of leaders, is big data/analytics, followed by mobile devices and business process management, cited by 34 percent, and mobile apps and AI, cited by 32 percent.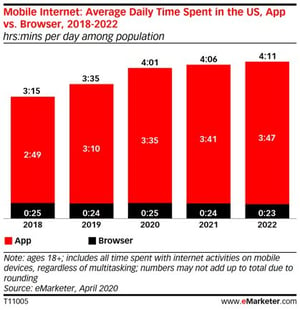 As more people work from home, they continue to increase their use of mobile apps. A recent report from eMarketer found people are increasing their Internet use and are spending more time in mobile apps than in browsers. In fact, a related AirShip study found that that the audience for mobile apps audience grew 31 percent in 2020 versus 2019, compared to a 16 percent growth the previous year.
Does IT Need More Mobile Apps for Remote Workers?
Working from home requires that IT departments build and/or integrate with have more mobile apps that share information and enable remote workers to do daily business tasks. For example, Zoom, a highly popular web conferencing solution for business, recently announced integration with popular mobile apps and a new marketplace for third party apps.
Alpha Software sees similar trends with its customers. Companies are building mobile apps for remote workers, creating mobile apps that keep employees and customers safe during the pandemic, and developing offline mobile apps that can conduct business even when remote workers lose their Internet connection or cell signal.
How IT Can Quickly Support Remote Workers
IT strategy is changing quickly in response to the pandemic in order to support remote workers. IT budgets are increasing, and companies are investing in new solutions to empower employees at home and bring important company data and systems to their laptops, tablets and iOS or Android smartphones. Mobile apps are a critical tool for IT to implement a successful remote work strategy.
To enable IT companies to quickly implement a remote work strategy and deliver for remote workers, Alpha Software introduced Alpha Anywhere Community Edition. The software allows IT departments to build mobile apps and test them at a rapid pace for free. They can then deploy these mobile apps to the cloud starting at $99/month. This is an ideal remote work solution for companies that want to get fast results and high ROI on IT budget investments. Learn more and build mobile apps for free.
Get employees screened for COVID-19 and back to work with the AlphaMED Workplace Wellness App.