The manufacturing industry knows it needs to digitally transform itself, but not all companies are yet onboard — a full 40 percent of manufacturers have yet to even launch a pilot, according to a McKinsey survey, "Digital Manufacturing – escaping pilot purgatory." And many that are already onboard may not fully realize how central mobile manufacturing apps are to getting to Industry 4.0.
If you're a manufacturer not yet sure of how vital mobile is to digital manufacturing, an article in MachineDesign, "How Mobile Devices Help Manufacturers Get Ahead in the Digital Age," details three ways mobile technology help.
3 Ways Mobile Devices Are Keeping Manufacturers Competitive
The first way, the article notes, is using mobile devices for quality control (QC) and inventory management. Manufacturers traditionally do quality management on products coming off the production line manually and record the information on clipboards. The author notes, "Mobile devices with cameras for thermal imaging or dimensioning can be used by QC to record this data faster, from anywhere in the production process and shared with the entire organization in real-time. If a worker uses a clipboard to record data, those top-level decisions happen much slower, and more faulty items are produced as a result." Similarly, with managing inventory, mobile apps and devices can use tools such as barcode scanners to more effectively capture, share and use data.
Mobile can also be helpful with predictive maintenance, the article notes. Using a mobile device, workers can run diagnostics directly on equipment and then capture and share the data. The article says that in doing this, "Workers can capture, share, and respond to maintenance data in a way that can dramatically impact the quality of the end product and the overall productivity of the organization. In addition, this information can then be fed into analytics databases to be utilized for predicting future maintenance at the optimal time, not too early or too late."
Finally, mobile technology can improve operational efficiency, the article says. With mobile apps, workers and managers can "access critical information wherever they are in the plant, which is essential to real-time data sharing and fast decision making."
The Best Platform to Help Manufacturers with Digital Manufacturing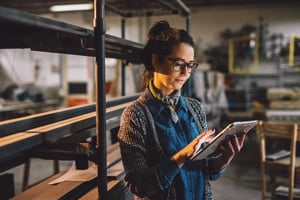 To build mobile apps that enable digital manufacturing and Industry 4.0, manufacturers need to choose the right platform to allow more employees to digitize manufacturing processes quickly. Alpha TransForm is an ideal choice. Alpha TransForm offers a free trial that allows users to easily customize a pre-built manufacturing app, such as a safety inspection app, a Gemba walk app, a non-conformance reporting app, or an equipment inspection app. Or users can choose to turn any paper form into a mobile app in minutes. All TransForm apps are optimized for one-handed data entry on the shop floor and utilize the latest mobile features (camera, GPS, etc.) for fast, accurate data capture. The best part - Alpha TransForm eliminates back-end data entry because apps can integrate with existing systems of records of workflows.
Try Alpha TransForm for yourself. You can build your own app or give one of our manufacturing apps a try: for example, our Gemba Walk App, 5S Audit App, or our Non-Conformance Report Template.
---

Powerful Data Capture Apps for Inspectors, Engineers, Assemblers and Production Teams
Gemba Walks • Workplace Audits • Non-Conformance Reports • Yellow Sheets •
Temporary Deviation Authorizations • Shortage Sheets • Supplier Defects Per Unit Reporting • ISO Certifications •
Work in Progress Tracking • Inventory Tracking • Workplace Wellness • and more,,,