The march towards re-inventing manufacturing using digital transformation continues, as manufacturers spend hundreds of billions of dollars on digital projects en route to Industry 4.0. But no matter how much money they spend, their efforts may be doomed to fail if they ignore one of the most important component in digital transformation —engaging manufacturing employees.
So argues Ted Smith, CEO of the IoT platform maker Corvex, in his article for Manufacturing.net, "The Key to Digital Transformation: Engaging Workers." Smith points out that manufacturers spent more than $333 billion in 2018 on digital projects, according to IDC. Much of that money, though, might not be well-spent, he says, because there's an overall failure rate in digital transformation projects of more than 84 percent according to a survey by the PulsePoint group.
---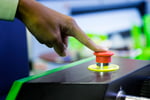 Manufacturing.net Reports:
More than 84% of manufacturing digital transformation projects fail, a survey by the PulsePoint group.


---
Importance of Manufacturing Employee Engagement in Digital Transformation
A major reason for that failure, he contends, is manufacturing employee disengagement. His contention is backed up by Michael Gale, a partner at PulsePoint, who told Forbes that digital transformation "Is a fundamental shift in how people had to think about how they interact, how they collaborate and work and if you don't spend time changing people's behaviors, you don't spend time changing culture and how people make decisions, all of this falls flat."
Smith adds, "We have the technology and we have the investment, but there's a component missing from most digital transformation strategies today, and that component is the worker themself. As an industry, we're beginning to realize that none of these IoT, smart factory implementations will work without engaging the worker as part of the overall strategy. Organizations have to embrace digital transformation from a human perspective, connecting workers to an overall framework that fosters real-time communication, stronger data management, and a safer, happier and more productive team."
Increasing Employee Engagement in Manufacturing
There are many ways to increase employee engagement at manufacturing companies, but a key one, says Bulent Osman, Founder and CEO of StaffConnect in a blog post, "Reversing Low Employee Engagement In Manufacturing," is the use of manufacturing mobile apps. He writes, "With a mobile engagement app that's specifically designed for the enterprise, not just for chatting, manufacturing organizations can strategically improve engagement of all workers and give on-site workers and non-desk employees (NDEs) more effective tech tools and resources to have a voice and remain engaged in the organization."
The result of using such apps, is this, he says: "When the entire workforce is empowered to collaborate with their managers and peers, businesses can at long last reach down into the heart of engagement to increase employee and customer satisfaction, brand loyalty and shareholder value."
Create Manufacturing Apps that Increase Employee Engagement
To engage manufacturing employees in digital transformation and successful Industry 4.0 deployments, manufacturers need to choose the right platform, and Alpha TransForm is an ideal choice. Users can start with a pre-built manufacturing app that they can customize. Examples include a safety inspection app, a Gemba walk app, a non-conformance report template, an equipment inspection app, and more. If users have a manufacturing paper form they want to turn into a mobile app, they can use Alpha TransForm to craft new manufacturing apps in minutes. All TransForm apps are optimized for one-handed data entry on the shop floor and utilize the latest mobile features (camera, GPS, etc.) for fast, accurate data capture.

Help Your Employees Build Manufacturing Apps in Minutes:
Try Alpha TransForm with its built-in manufacturing apps free for 30 days.
---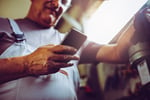 Additional Reading on Employee Engagement:
Mobile: The Secret to Industry 4.0 Success


---

Digitize Manufacturing Inspection Forms
Powerful Data Capture Apps for Inspectors, Engineers, Assemblers and Production Teams
Gemba Walks • Workplace Audits • Non-Conformance Reports • 5S Audits • Yellow Sheets •
Temporary Deviation Authorizations • Shortage Sheets • Supplier Defects Per Unit Reporting • ISO Certifications •
Work in Progress Tracking • Inventory Tracking • Workplace Wellness • and more,,,