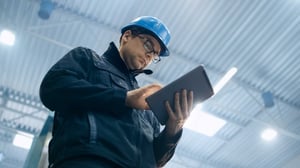 The manufacturing industry is hurriedly chasing digital transformation in a movement called Industry 4.0. This digital revolution is powered by IoT, big-data analytics, smart factories and other technologies.
But many manufacturers are struggling to get to Industry 4.0. So Gartner, in its report, "Top 10 Strategic Technology Trends for Manufacturing Industries: Smart Factory," offers advice for companies who want to make the most out of it.
The core of Gartner's recommendations is that it's vital for companies to work on "transforming and improving ways in which people, processes and technologies operate to deliver the critical information needed to impact decision quality, efficiency, cost and agility."
---
Digital technologies allowed one factory to reduce

inventory storage by 60%

, and another to manufacture and

deliver a product within 12 hours

of receiving an order.
---
Among the technologies important for doing this, the report says, are "automated things" such as autonomous mobile robots, augmented analytics that use machine learning driven by IoT to automate data preparation and analysis, the "empowered edge" that keeps data processing close to the plant rather than in central IT, and immersive experiences including augmented reality, virtual reality, and mixed reality to help factory workers perceive and interact with the digital world.
The report points to numerous examples of the benefits these kinds of technologies offer, including an automaker using autonomous things to reduce inventory storage by 60 percent, and a factory that can manufacture and deliver a product within 12 hours of receiving the order.
The Importance of Mobile In Industry 4.0
Not mentioned in the Gartner survey, but implicit in it, is the centrality of mobile to the success of Industry 4.0. Here's how Samsung executive Josh Gibson describes it in a blog post: "Forward-thinking manufacturing companies are using mobile devices as the platforms through which plant management and workers can access…technologies with ease — and at scale — to create an agile, responsive and truly collaborative environment."
And Anurag Lal, CEO and President of Infinite Convergence Solutions, says in his blog post "5 Ways Mobile is Driving the Next Wave of Technological Innovation," that vital to Industry 4.0 is how well IoT and mobile work together: "The key to staying competitive in this new era of innovation is the confluence of IoT and mobile. With IoT's ability to combine data generation with connected devices, manufacturers can mine through more data than ever before. By combining that data generation with mobile's ability to provide networks, mobile and IoT will enable increased visibility within the manufacturing market."
Helping Manufacturing Companies Move Towards Industry 4.0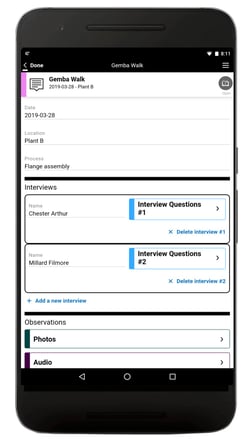 Intelligent mobile apps are a great step towards Industry 4.0 for manufacturers. Alpha TransForm is ideal for resource-constrained manufacturers looking to digitally transform their businesses and begin to leverage IoT, analytics, AI and more. Alpha TransForm quality management software helps quality, inventory or production teams craft online or offline mobile apps in minutes, that utilize the latest mobile features (photos, GPS, time/date stamping, bar code scanning, voice recording, etc.) for fast, accurate data capture on the manufacturing floor or in the warehouse. Manufacturers can pay a low monthly subscription and easily craft all the apps they need - or mobilize their existing paper forms processes - and have them running in a secure cloud in days -- without a capital expense or fighting for IT resources. And Alpha customers benefit from free apps, like the Gemba walk template, 5S Audit template, and non-conformance report template. Learn more about Alpha TransForm, manufacturing template apps and a free-30-day trial.

Powerful Data Capture Apps for Inspectors, Engineers, Assemblers and
Production Teams
Gemba Walks • Workplace Audits • Non-Conformance Reports • Traceability •
Temporary Deviation Authorizations • Equipment Inspections • Shortage Sheets • Supplier Defects Per Unit Reporting • ISO Certifications • Work in Progress Tracking • Inventory Tracking • and more,,,quali