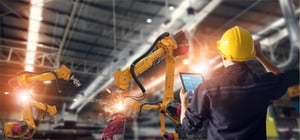 If manufacturers are to thrive, they need to digitally transform the way the factory floor and their entire enterprises work using a set of technologies referred to as Industry 4.0. The attempt to get there is top of the mind for manufacturers around the world — an estimated 85 percent of companies are expected to put Industry 4.0 technologies into effect in the next five years.

But manufacturing is a very complex industry, in many ways wedded to its past, and so getting there can be extremely difficult. However, there's some excellence guidance available for manufacturers who want to transform themselves, from companies that have already been through it. The Forbes article, "How Factories Of The Future Are Leading The Way To Innovation In Manufacturing," written by the World Economic Forum, is a great way to get that advice.
The article notes that "More than 70% of companies are struggling to adopt technology effectively, with their efforts to respond to [Industry 4.0] stuck in what we call 'pilot purgatory,' the attempt to implement new technological solutions without realizing the expected returns on investment or improvements in efficiency."
So the World Economic Forum's Global Lighthouse Network, in collaboration with McKinsey & Company, identified 44 of the world's most technologically advanced factories. They studied what the factories had done, and based on that, came up with recommendations on what other manufacturers should do to get to Industry 4.0.
The first recommendation: Make sure that the systems you put in place can scale across the entire enterprise, not just on the factory floor. That's what Fast Radius did — it created an analytics platform that gets data from the manufacturing process, then made that information available to everyone across the entire business. The result, says the article, is "a 36% inventory reduction and a 90% reduction in the time it takes to get products to market."
The next recommendation is to optimize a factory's efficiency to maximize its sustainability. This is important because, the article notes, "Manufacturing represents 54% of the world's energy consumption and is responsible for 20% of global emissions." Unilever did that the article notes, and "has reduced its material waste by more than 40% in their Dubai, UAE, factory by digitally enabling end-to-end quality management."
Companies should also "focus on re-skilling and enabling workers," the article says. It goes on to say, "This involves empowering workers to innovate with technology, managing talent development and implementing new ways of working." One example it points to: "Schneider Electric runs 'Digital Weeks' consisting of a hackathon used to generate new ideas and include workers in leading the company's digital transformation." For example, some companies have digitized Gemba walks, 5S audits and non-conformance reports to better enable woekrs.
Finally, the article says, manufacturers need to completely transform their value chains and production systems. It recommends, "Leaders in this space should support the diffusion of technology through their entire production networks, lifting up SMEs to improve overall results. This shared learning journey can lead to not only a return on investment but also a more inclusive distribution of knowledge, which can accelerate innovation across the industry."
The Best Platform for Building Apps for Manufacturing Industry 4.0
To reach Industry 4.0, manufacturers need the right development platform. Alpha TransForm is built to help manufacturers digitally transform their businesses. Alpha TransForm allows manufacturing employees to craft online or offline mobile apps in minutes that utilize the latest mobile features (camera, GPS, etc.) for fast, accurate data capture. The resulting apps can then tie into any corporate system of record to make the data available for use immediately, or to power workflow processes that initiate an emergency stop, take corrective action or trigger order replacement. Get a free trial of Alpha TransForm. You can build your own app or give one of our manufacturing apps a try: for example, our Gemba Walk App, 5S Audit App or our Non-Conformance Reporting App.