Register for our weekly Alpha Anywhere Evaluation + Q&A webinar Register Now →
Alpha Anywhere 2.0
The complete front-end to back-end, prototype-to-production environment for rapidly developing and deploying enterprise-level, cross-platform mobile and web business applications.
Learn More → Free Trial →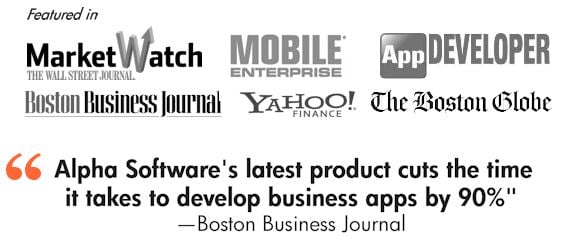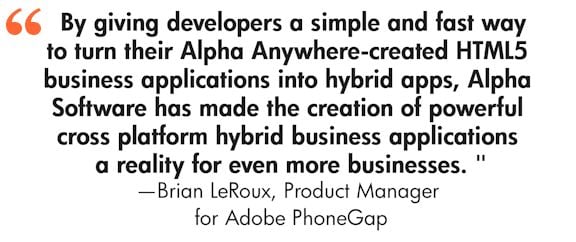 The Complete Solution to Responsive Mobile and Web Apps
| | |
| --- | --- |
| | Complete, rapid, wizard-driven development environment with optional custom coding |
| | Apps can be built once and responsively adapt to screen sizes from 4 inches to 4 feet. Read the white paper → |
| | HTML5 and hybrid apps through easy PhoneGap integration. See how its done in the intro video → |
| | Everything you need on the front and back-end (data connectivity, reporting, charting, data mapping, scheduling etc.) |
| | Secure, standards-based, and extensible |
| | Support for offline/disconnected mobile apps coming soon |
| | Attractive pricing and total cost of ownership. Learn more → |
See the Kinds of Applications You Can Build

See more examples at our Case Studies page and then see real world data from Alpha developers on the true costs of building mobile and web apps at our Pricing page.
Customer Testimonials
"
Alpha Anywhere is just that good.
Imran Riaz, Senior VP of Equipment Finance/ Federal leasing at TD Bank —which has 70,000 employees—discusses Alpha Anywhere.
"
I can develop applications with Alpha Anywhere that will run on all of these platforms.
Nils Boje is building applications for enterprises such as MAERSK, the world's largest shipping company, with Alpha Anywhere.
The Press is Talking About Alpha Anywhere
September 4, 2014
Alpha Anywhere Customer Profile: "From Writing Code to EMT: A CTO's Journey"
TheServerSide.com →
---
August 12, 2014
How Low-Code Development Seeks to Accelerate Software Delivery
SD Times →
---
July 24, 2014
IDG Connect Profiles Alpha Software Corporation CTO Dan Bricklin
IDG Connect →
---
July 16, 2014
Forrester: Move Faster on App Development
CMSWire →
---
July 16, 2014
Alpha Software selected as one of the AlwaysOn "Global 100 Companies to Watch"
AlwaysOn →
---
May 6, 2014
Dan Bricklin, 'Father of the Spreadsheet,' Now Tackles Mobile Challenges at Alpha Software
BetaBoston →
---
April 7, 2014
Alpha Software's Latest Product Cuts the Time it Takes to Develop Business Apps By 90%
Boston Business Journal →
---
March 20, 2014
10 Simple Tools for Building Mobile Apps Fast
InfoWorld →
For more articles about Alpha Anywhere, check out our Press page